Disclosure: This post may contain affiliate links. I receive a small commission at no cost to you when you make a purchase using my links.As an Amazon Associate I earn from qualifying purchases.
Day two of our Birthday Party! Thanks for dropping by! 
Yesterday, when I opened my mailbox, my copy of the spring edition of Where Women Cook was there! Yippie! I'll bet I've told anyone who'll listen,  how much I LOVE this magazine. And if I haven't told YOU, I LOVE THIS MAGAZINE!   I've loved it since the very first droolworthy issue. Its one of those you keep. Like the piles of Southern Living Magazines I've amassed over the years, its earned its own place on the coffee table. Just when the pages of the Winter edition are dogeared and worn, I've finally received my very own subscription!!
Just Look!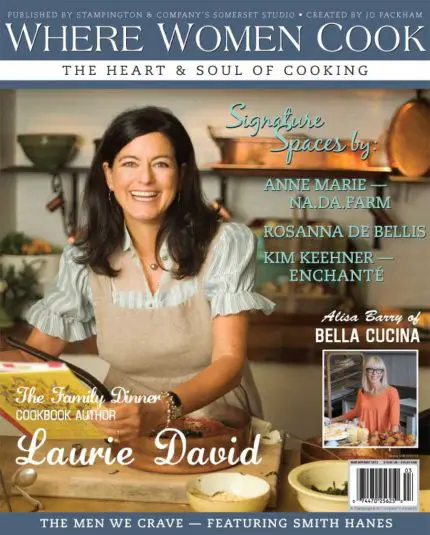 The publishers choose the most amazing kitchens to include, as well as yummy recipes, tips and stories about cooks we'd all love to sit down with and have a glass of sweet tea!  I love learning from the 'masters', getting the inside on how to be a 'better' cook and learning things about how to better organize my small kitchen.
But look at this!!
What's not to love about candy?
or this
Rhubarb Pie!!  (Now THAT'S some yummy goodness!
Here's a look at the table of contents, just look how packed full  this magazine is!
If you're not convinced yet, hop over to  the blog Where Women Cook and just look at all the fabulous recipes there!
I'd love to be able to tell you I'd gotten a call from the publishers. And I was all fancy schmanzy and that they wanted to include me and one of my Simple Southern Recipes in this unbelievably luscious magazine.   I've imagined in my mind a kajillion times how the call would go. I can dream can't I? (more on this later)
Well back to earth. And back to the kitchen.  So where was I ?  Oh yeah, its our Birthday week  and you need a recipe first!
Springtime brings wonderful produce at the market and a chance for me to whip up some comfort food. Foods from my childhood that are perfect midweek fare. Easy to make , hearty and warm. Like this Meat Stuffed Bell Peppers recipe. Grab a print and make these this week for your family!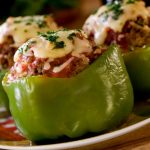 Print Recipe
Meat Stuffed Bell Peppers
Hearty, warm comfort. Perfect for a mid-week dinner
Ingredients
6

large bell peppers

green or stop light mixed colors tops cut away and seeds removed

1

cup

finely chopped yellow onion

1/2

cup

finely chopped bell pepper

use the tops

3/4

pound

organic ground beef

1

pound

organic ground Italian sausage

1

tablespoon

minced garlic

1/4

cup

fresh parsley chopped

3/4

teaspoon

sea salt

1/2

teaspoon

coarse ground black pepper

pinch

red pepper flakes

optional

2

cups

cooked whole grain rice

optional

8

ounces

tomato sauce

2

tablespoons

extra virgin olive oil
Instructions
Remove tops and stems from bell peppers, discard the stems and chop and set aside the tops for the filling.

In a large pot of rapidly boiling water, parboil the bell peppers until just tender (this only takes about 2 minutes)

Remove from boiling water with a slotted spoon and drain upside down on paper towels.

Prepare the rice according to package and drain if necessary.

In a LARGE Skillet, heat the oil over a medium high heat.

Add in the onion and bellpeppers and cook, stirring constantly until just soft.

Add the beef, sausage, salt, pepper, parsley, garlic and pepper flakes.

Cook until meat is nicely browned. Use a wooden or metal spoon to break up any large lumps.

Add the rice and tomato sauce. Stir until thoroughly blended.

In a foil lined large baking dish, add just enough water to cover the bottom.( about 1/8 inch) (Use a pan with sides deep enough to hold the peppers upright)

Spoon meat mixture into peppers so that they are stuffed tightly (press down a bit with the spoon)

Place into foil lined baking dish

Bake until peppers are 'very' tender and filling is heated through (about 25-30 minutes)

Remove from oven and let rest about 10 minutes before serving.
Notes
This recipe makes a lot! The filling freezes nicely if you only want to make 2 or 4 peppers. I use a cast iron dutch oven to prepare the meat mixture. just makes it easier and there's less cleanup in the end. (I'm messy)
Top your stuffed peppers with tomato sauce, or cheese after fully cooked. Remove from oven add topping and place back into oven on broil for a few minutes until cheese is melted or tomato sauce is bubbly. (watch closely so it does not burn)
Now that dinner is under control, I want to give you a gift!  One lucky  commenter will receive their very OWN copy of  the Where Women Cook spring edition.  If you'd like to purchase your own subscription (and I highly recommend you do)go here.  I'll draw for this gift on April 18, 2012.
Here are the rules. Yes we have to have rules.
1.If you have a blog you must link up through the linky below. If you have NO blog (really?) You'll receive one entry for your comment only (please let me know you do not have a blog in your comment)
2. Entrants will receive one entry for a link up through the linky tool AND a comment.
3. Additional entries are as follows and are NOT REQUIRED  in order to be eligible.[donotprint]
One additional entry  for  following me on Twitter  AND Tweeting this Birthday Party with the hashtag #HappyBirthdaySimplePlate  (let me know in the comments)
One additional entry for following me on Pinterest AND  Pinning this  recipe on Pinterest (let me know you've done this in the comments)
One additional entry for telling your readers on your blog about this Birthday Party (leave a link to your post in the comments)
4. One winner will be chosen at random and notified by email and here on the blog. If the winner fails to respond within 24 hours, another winner will be chosen.
Of course I'd love it if you would also follow Simple Plate on Facebook, but I can't offer you an entry for that. THIS CONTEST IS CLOSED
disclosure: I have a material relationship with Where Women Cook, I develop and manage their websites. I have never appeared in the pages of the magazine or on their website (do they even know I have time to blog?) They have graciously provided a copy of the magazine for the winner.
Here's the link up: