Disclosure: This post may contain affiliate links. I receive a small commission at no cost to you when you make a purchase using my links.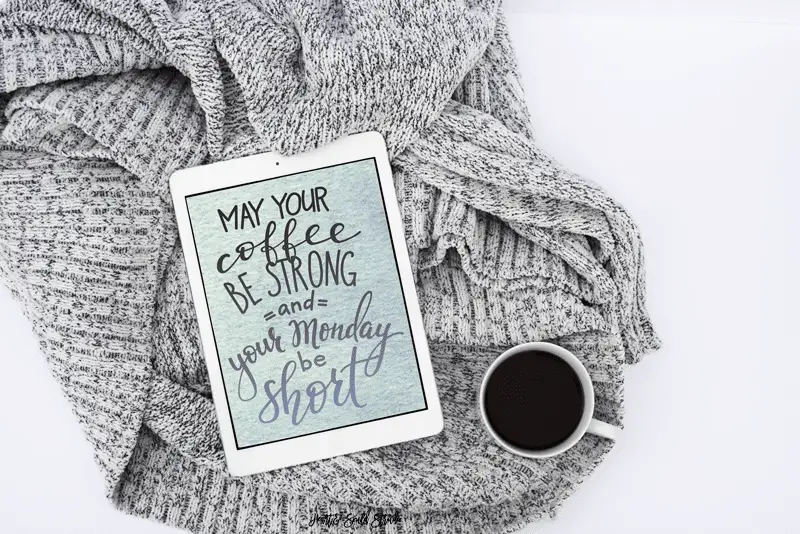 Be Sure You PIN this post! now and keep the freebies coming!
I'll age myself right here as I hum "rainy days and mondays always get me down". But seriously, Mondays can be the worst and lately it seems all my days are Manic Mondays. How 'bout you?  I've been gone from this space for a while, and I apologize.  Spring is always my busiest time business wise and this spring has been no exception. Lots of new and updated sites are appearing across the web thanks to my wonderful clients patience and some truly Manic Mondays!
Free Printable For Everyone!
But today, I want to tell you I'm back. I'll be bringing you some fun things along with a portion of my own recipes, dedicated to the Keto lifestyle. (notice I said lifestyle not diet?) I'm going to start this week off right and bring you the first of our fun things a free printable! Yep, coffee keeps me going most days, especially Monday. So I thought this hand-lettered printable would be perfect!
You need Adobe Reader in order to print or a photo editor. I hope you love this little printable as much as I do! Download your printable now and if you haven't already, go ahead and sign up for our newsletter, you don't want to miss April's full month of goodies and special freebies JUST for subscribers!
[widget id="enews-ext-4″]