Disclosure: This post may contain affiliate links. I receive a small commission at no cost to you when you make a purchase using my links.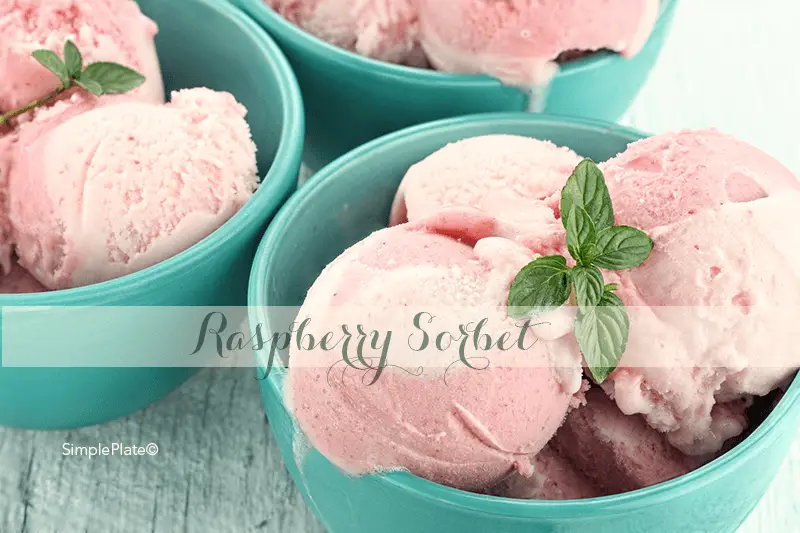 Summer just naturally calls for cool treats! Among our favorites is Sorbet. Though ice-cream, gelato and sherbert also reign. So what's the difference in all these yummy scoopables?
Gelato
The big difference between gelato and American style ice cream is in the amount of air that is whipped into the product. (20% air for gelato and up to 60% air for ice cream) The result is a denser and more intensely flavored dessert.  And my personal choice when it comes to creamy deliciousness!
Sherbet
Like a sorbet this is a fruit based product, but milk is added for creaminess. But by law it can contain no more than 2% butterfat.
Granita
Very similar to sorbet but granita is not whipped and ice crystals are allowed form. It has a more granular appearance, and a crunchy texture. Our favorite is  a citrus Lime Granita.
IceCream
Made with milk, cream, sugar, and eggs.  The creamiest of all frozen desserts, containing at least 10% milk fat by law in the U.S.
and last but not least at all,
Sorbet
This is a frozen dessert that is made from fruit purée and can include the flavorings of herbs and spices. It is then whipped to lighten its texture. Sorbet contains no milk. These icy concoctions burst with the flavors of your favorite citrus fruits, melons, and berries. Unlike its cousins ice cream and sherbet, sorbet is made without cream or eggs, so it's the perfect little pick-me-up for the dog days of summer.
Sugar is the key to a good sorbet. A little tricky though, too little and the crystals will be too big, too much and the sorbet will be slushy. Make sure you select the ripest, most fragrant fruits to add even more punch. Cover leftover sorbet in plastic wrap (directly on the surface), and store in a plastic container in the freezer for up to two weeks.
Mix in with  a little vanilla ice cream for a beautiful party dessert or serve it scooped into sugar cones for a special kids treat! The only limitations when making sorbet desserts is your imagination! Add a little basil or rosemary to your fruits for a  savory taste. Go ahead, give this yummy recipe a try and try the variations too! Guaranteed you'll love it!
Print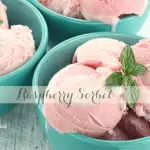 Berry Sorbet
---
3 cups

water

1 cup

sugar

5 cups

fresh or frozen berries . (We love raspberries)
---
Instructions
Bring 3 cups water and sugar just to a boil in a medium saucepan over high heat, stirring until sugar dissolves. Remove from heat. Cool.
Process sugar syrup and berries, in batches, in a blender until smooth. Cover and chill 2 hours.
Pour mixture into the freezer container of a 1-gallon ice-cream maker, and freeze according to manufacturer's instructions.
Notes
Grapefruit Sorbet: Substitute 3 cups fresh grapefruit juice and 1 teaspoon chopped fresh mint for berries.Proceed as directed.
Pineapple Sorbet: Substitute 2 cups chopped pineapple for berries. Strain and discard pulp after processing mixture in blender, if desired. Proceed as directed.
Lemon Sorbet: Substitute 1/2 cup fresh lemon juice and 2 teaspoons grated lemon rind for berries. Proceed as directed.
Orange Sorbet: Substitute 3 cups fresh orange juice and 2 teaspoons grated orange rind for berries. Proceed as directed.
Strawberry Sorbet: Substitute 5 cups fresh or frozen strawberries and 2 tablespoons lemon juice for berries. Proceed as directed.
Cantaloupe Sorbet: Substitute 4 cups chopped cantaloupe for berries. Proceed as directed.
Cherry Sorbet: Substitute 1 (6-ounce) can frozen lemonade concentrate, prepared, and 1 (16-ounce) jar maraschino cherries for for berries. Strain and discard pulp, if desired. Proceed as directed.