Disclosure: This post may contain affiliate links. I receive a small commission at no cost to you when you make a purchase using my links.
Thick or thin? Spicy or Sweet? Red or White?  Southern barbeque and rib sauces are as varied as the people who use them. Here's the lowdown on 'the secret' sauce and seasoning rubs.
White Sauce: An Alabama favorite, developed by Bob Gibson almost 80 years ago, served with smoked chicken, its a mayonnaise-vinegar sauce, creamy and delish!
Yellow Sauce: South Carolina's claim to fame, brought to them back in the 1700's when the Germans settled there. (Makes a great marinade for ribs too!)
Red Sauce: Tomato based and can range from deep dark brown to rusty red in color. The most common variety, but only came to prominence after the invention of Ketchup back in the early 1900's. Texas folks love a thick red, sweet sauce on brisket. That is if they sauce that brisket at all! Folks in Memphis who love 'wet' ribs slather on the red stuff. Obviously, Ketchup and vinegar form the base, the addition of things like molasses, Worcestershire sauce or chili sauce, change the flavor and color.
Clear Sauce:  Peppery, vinegar type sauces are mostly found in areas like the OBX of North Carolina, the shores of South Carolina and Georgia and Virginia.  Red pepper gives this its zing!
Black Sauce: Perhaps the least known of any sauce, only found (that I know of ) in Kentucky. Used as a dipping sauce for mutton barbecue , this one is traditionally made with vinegar, brown sugar and Worcestershire sauce.
And for the purists… Rubs take the spotlight!
Dry spices in a myriad of combinations are rubbed on the meats before cooking, and form a crust that seals in the juices and flavors.  Rubs often replace sauces, as in the case of Memphis 'Dry' Ribs  and their typical spicy rub.
Give my favorite Rib Sauce Recipe a try. I promise you'll love it ! Throughout the summer I'll share some original rub and sauce recipes along with the more traditional ones from around the south!  This one is easy, simple and  the whole family will love it!
Print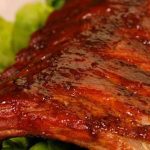 Deb's Best Rib Sauce Recipe
---
Description
Delightfully Sweet and Tangy
---
2 Cups

Ketchup

1/2 cup

Tupelo Honey

2

cloves fresh garlic (minced)

1

small Vidalia onion (diced finely)

2 Tablespoons

Balsamic Vinegar

2 Tablespoons

Meyer Lemon Juice (reserve the rinds)

1 Tablespoon

Worcestershire Sauce

1 Tablespoon

Louisiana Hot Sauce

1/4 teaspoon

sea-salt

1 cup

Dry White Wine or Cooking Wine
---
Instructions
Combine ingredients into a large sauce pan.
Drop in reserved lemon rinds
Bring to a slow boil
Reduce heat and simmer 20-30 minutes until slightly thickened.
Paint on to fully cooked ribs right before removing from heat.
Remove lemon rinds and store remaining sauce in tightly sealed refrigerated mason jar.