Disclosure: This post may contain affiliate links. I receive a small commission at no cost to you when you make a purchase using my links.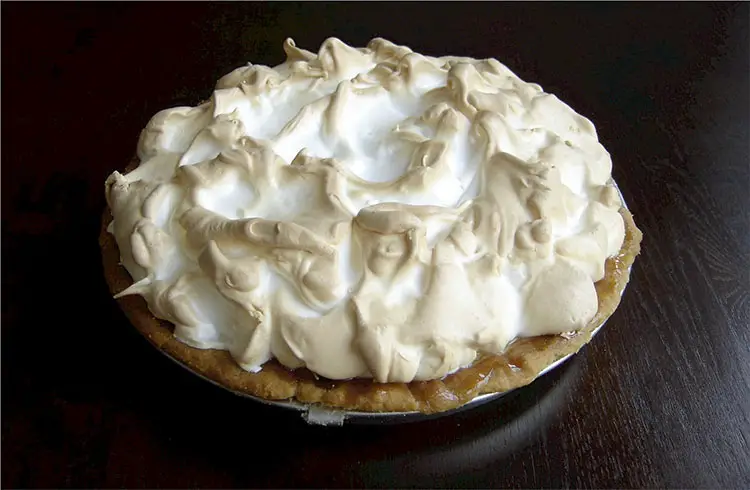 In the south, we're serious about a few things. Crispy Fried Chicken, luscious potato salad, fluffy biscuits on Sunday morning and Pie. Pie of all kinds ranks high on the southern cooks dessert list, but especially Meringue pies. Lemon, Chocolate, Coconut and Key Lime just scratch the surface of what a good southern cook can top with her perfect 'mile high' meringue. Don't mention topping any of those pies with cool whip or whipped topping, you'll be shooed from the kitchen faster than a black cat!
Southern cooks of all experience will tell you in a snap that their pride and joy is being able to make the perfect meringue for their pies. Its an art, but one that with a little practice, you can accomplish. (Not to be confused with Carrie, the merengue dancing dog)
Letterman removed this video.
She's actually very talented ! (cute eh?) Ok, I had to  show you that!
I've been through the trials, the tribulations and failures of weepy meringues, flat meringues and just plain sticky gooey meringue that just doesn't taste good.  So here are  my tips for the perfect meringue. (I don't use cream of tartar or cornstarch to get these fluffy clouds of goodness, just time, love and a good mixer)
Be sure your utensils and your hands are scrupulously clean and perfectly dried.
Start with eggs that are a few days old.  Any good southern cook will tell you that 'perfectly fresh' eggs don't whip up as voluminously as eggs that are 3 days or so old.
If you're making a meringue pie, do it on a dry, non humid day.  Humidity =moisture in the air, if you're whipping in air, that humidity will affect your meringue
Separate your eggs while they're cold. Its just easier to separate white from yolk when they're cold and the tiniest bit of yolk will ruin a good meringue.
Don't use your hands to separate the egg yolk from the whites. I know its the most convenient way for most of us, but fat and oil can wreck a good meringue too!  Use a separator or just use the shells, transferring the yolk back and forth between the two  and letting the whites fall into  one bowl and the yolks into another.
Use glass, copper or metal bowls and keep your hands out of the bowls and away from any surface that would touch the egg whites. Again, its the oil thing. Plastic bowls often retain oils from foods and the slightest oil from your hands will not help your meringue.
After you've separated your egg whites from yolks, let them sit for about 30 minutes until they've reached room temperature. (about 70°).Its all about the foam, the bubbles the volume. Basically when you're making meringue you're whipping air into the egg whites, more air=more volume. A cold egg takes longer to whip than one at room temp  and a beaten egg white can foam to 6 to 8 times its original volume if the egg whites have been at room temperature for 30 minutes before beating. (so say the folks at the egg board)
Don't start beating your egg whites and take a break to chat on the phone or answer the door.  Once you've placed your egg whites in a tall bowl and attached your whisk attachment to your mixer, don't stop until they reach the soft peak stage. Set your mixer to medium high and go for it.
Add the sugar after the whites have reached the soft peak stage (they're fluffy and when you lift the beater the peaks fold over the beater edge) . Superfine sugar works the best when making meringues. Don't worry if you don't have this in the pantry though, you can make your own using your food processor or blender by pulsing your sugar a few times to break the crystals up into smaller ones.
Add your sugar in gradually. I use a tablespoon to do this, adding in about 1/4 cup of sugar per egg white. Sugar stiffens the foam of the egg whites and you can check to see if the sugar is completely dissolved by rubbing a bit of the mixture between your fingers. DON'T put your fingers into the meringue, use a clean spoon to dip some out. If it feels gritty, continue beating some more.
Your pie meringue is done when you lift the beater out and the whites stand at attention! Again, don't take a break during the process, start it and work it through and you'll have the perfect  mile high meringue for your pies!
Make your meringue first. Then make the pie filling.  The warmth from the pie filling begins the cooking process and makes the meringue less likely to shrink away from the sides of your pie crust.
Baking longer and slower (325°) for about 25 minutes will help your meringue cook through better and give you those gloriously browned peaks.
Don't put a meringue pie in the refrigerator. Store at room temp under a glass or metal bowl. If you store in the fridge, you'll have leaky, weepy meringue.
Use a sharp knife dipped in water to cut meringue pies cleanly, wipe and dip in cool water between slices.
Meringue pies are lots of work, don't misunderstand me, but they're oh so yummy and you'll revel in the joy from the folks around the table!
What are your best tips for great pies?  Got a favorite meringue recipe?  Share em with us!