Who doesn't love cake?  Its my birthday this weekend and of course, I'm making my own cake, but you guessed it, in my crock pot!
When southerners think cake, our minds turn to red velvet (another of my personal faves) , coconut and of course  Hummingbird Cake!  Hummingbird cake is an all time southern fave and was introduced to Southern Living readers in 1978 by Mrs. L. H. Wiggins of Greensboro, North Carolina. Her version was three layers tall and between each layer was a yummy cream cheese frosting mixture.  Recently Southern Living again posted about  Hummingbird cake when they posted their Top 10 Five-Star Layer Cakes and have even ginned up a lighter version of the cake, still with three layers mind ya and still with a creamy frosting.  Southern Living itself says the recipe for the original is THE most requested recipe in the history of the magazine. For those of us in the south, that's sayin something!
Rebecca at Ezra Poundcake says 'Eating a slice of Hummingbird Cake is like falling in love' and I'm with her on that!  She's adapted the original recipe too, and her rendition is gorgeous! Just take a look!  Her whole blog just makes me drool!  I digress..
Here's my version of Hummingbird Cake, adapted for my crock pot. If you're looking for a holiday dessert that's like  a fork full of happiness, give this one a try!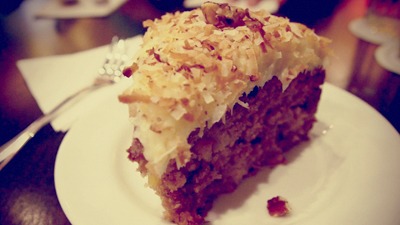 Prep time:
Cook time:
Total time: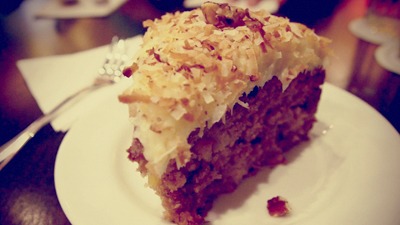 Ingredients
Cake
3 cups all-purpose flour
2 cups granulated sugar
½ teaspoon salt
2 teaspoons baking soda
1 teaspoon ground cinnamon
3 eggs, beaten
1¼ cups vegetable oil
1½ teaspoons vanilla extract
1 can (8oz) crushed pineapple, well drained
1 cup chopped pecans
2 cups chopped firm ripe banana
Cream Cheese Frosting:
16 ounces cream cheese, softened
1 cup butter, room temperature
2 pounds confectioners' sugar
2 teaspoons vanilla extract
½ to 1 cup chopped pecans
1 cup toasted coconut
Instructions
Sift flour, sugar, salt, baking soda and cinnamon together into mixing bowl several times.
Add eggs and salad oil to the dry ingredients.
Stir with a wooden spoon (do not use a mixer for this one) until ingredients are moistened.
Stir in vanilla, pineapple and 1 cup pecans.
Stir in the bananas.
Spoon the batter into a well-greased 3½ quart cylindrical Crock-Pot.
Bake for 4-4½ hours.
Cool for at least 30-45 minutes, then turn onto a flat cake plate.
Cool completely before frosting.
Frosting
Combine cream cheese and butter; cream until smooth. Add powdered sugar, beating with an electric mixer until light and fluffy. Stir in vanilla. Gently top with pecans and toasted coconut.
Here are some helpful hints for baking cakes and breads in crock pots.
I've gathered these from trial and error and from friends and family. I'm sure some of you have your own tips!
DO NOT OPEN THE CROCK POT DURING THE FIRST FEW HOURS OF COOKING! UNLESS YOU WANT A FLAT MESS!
Loosely place a clean kitchen towel on top of your crock and cover with the lid. (several layers of paper toweling also work, but be sure to use plain white ones)
Discerning when a cake in the crock pot is done can be tricky! You can check for by looking at the sides of the cake, which should be browning and separating from the sides of the pot. The top should be firm-looking. (STILL MOIST HOWEVER)
You can also insert a knife or long skewer but it will always be a bit moist. If the top still looks gooey and the sides are still LIGHT, walk away and set your timer for another 30 minutes or so.
Allow your cake to cool for a full 30-45 minutes before you attempt to remove from the crock.  Its going to stay warm for quite a bit, if the crock removes from the heating area, remove it carefully and set on a cold stove top.
A flat icing spatula or good ole kitchen knife run around the sides of the crock will help you loosen it from the sides.
Center a cake plate on top of the pot and flip it over so that the cake falls onto the plate. You may need to give it a little jiggle and a shake and when it has come out, slowly lift up the Crock-Pot.
It's important to make sure the sides don't overcook, so done-ness will be a version of the middle being fairly dry and the side being well done but not over-cooked. Even if your cake is a little messy in the middle, don't stress it. Crock pots are by nature moist environments and  your cake will be a little more moist than you've probably cooked before.
Enjoy!