Disclosure: This post may contain affiliate links. I receive a small commission at no cost to you when you make a purchase using my links.
Today  I'm out on the road, and I'm turning the cooking over to a great cook and wonderful blogger, Nikki from Chef in Training. I'll be back next week. In the mean time, show her some love in the comments here. And, if you have a recipe you'd like to see here on Simple Plate,  simply submit it with our Recipe Submission form. Don't forget your images!  I fell in love with triopitas back in my home town as a young woman. Our Greek community had a fesitval every year and taste testing was always a big treat!  Enjoy! Thanks Nikki!

Hello Simple Plate fans! I am Nikki from Chef in Training and I am SO excited to be here with you today to share one of my family's favorite recipes! Debbie is amazing and has become a great friend of mine. She is an incredible cook, designer, coder, photographer, writer and friend and I am extremely honored to be here today. I just adore her blog!
Like I said before, my name is Nikki and I am the face behind Chef in Training. I Love to cook, bake, and be in the kitchen. It is such a stress reliever for me..until I think about the dishes :) I am married to the love of my life and have 2 beautiful kids. Food has always been a big part of my life. I am quite the mix when it comes to my ethnicity. My mom is a blond-haired blue-eyed girl who was born and raised in California. My dad is half Greek and half Hispanic. He was born in Germany, spent his childhood in Greece with his mom, and moved to Texas to live with his dad for high school. He and my mom met at a Mexican Restaurant in California that they both worked at while my dad was going to college. My mom was introduced to so much culture when she met my dad, and with all that fun culture comes some GREAT food! This is a recipe I grew up with in my home and love. My grandma still lives in Athens, Greece and I have flown out with my family a few times to visit her. The food there is absolutely incredible! Tiropita are one of my personal favorite Greek foods because they are jam-packed with delicious flavor. I hope you enjoy this recipe as much as my family does!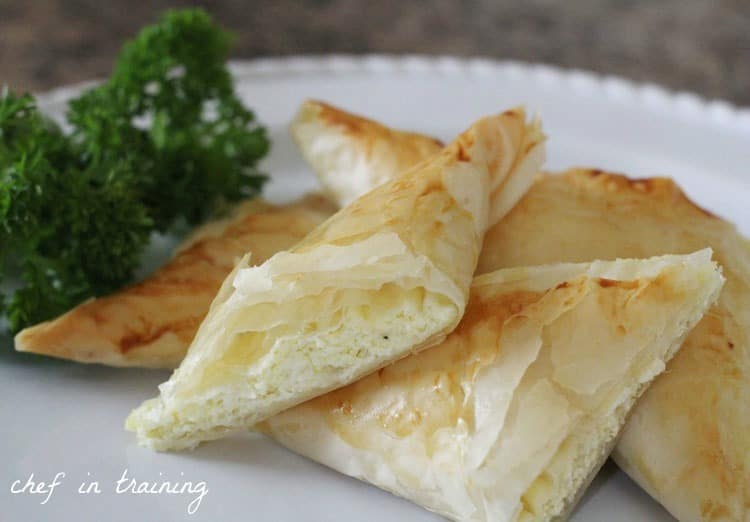 Here are the step by step  pictures for assembly! Couldn't be easier!


W85QBT9X6CS4
Print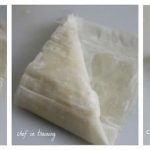 Tiropita
---
Description
Yummy savory bites packed with flavor!
---
16 oz

. feta cheese

8 oz

. ricotta cheese

8 oz

. mozzarella cheese

4

eggs

1

box Fillo Dough (set out and thawed to room temperature)
oil

2

eggs (beaten)

16 oz

. feta cheese

8 oz

. ricotta cheese

8 oz

. mozzarella cheese

4

eggs

1

box Fillo Dough (set out and thawed to room temperature)
oil

2

eggs (beaten)
---
Instructions
Preheat oven to 350
In a large bowl, mix feta, ricotta, mozzarella and eggs together until well blended.
Cut Fillo Dough in half lengthwise.
Take one sheet of Fillo Dough and brush lightly with oil. Place another sheet of Fillo on top and brush top Lightly with oil. Top with a third sheet of Fillo.
Place a heaping spoonful of cheese mixture onto one of the corners of Fillo dough.
Fold up (as demonstrated in pictures) until you have a triangle shaped Tiropita.
Arrange on cookie sheet and repeat with remaining Tiropita.
Brush the tops of the Tiropita with beaten egg wash and bake at 350 degrees F for 15-20 minutes or until golden brown.
Serve warm with a side salad.
Notes
You should get about 12 Tiropita per cookie sheet pan. Don't let them touch one another.