Disclosure: This post may contain affiliate links. I receive a small commission at no cost to you when you make a purchase using my links.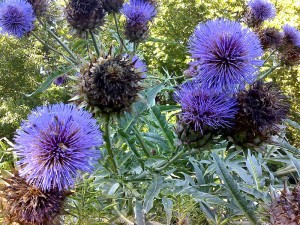 I grew up in an Italian American household. In the South.  Not really such an odd combination, since many Italians immigrated to the US and moved southward where work in the coal mines and steel industry was plentiful.  I digress.  Family meal time was often a shouting contest, especially on Sundays when everyone (kids, parents, aunts, uncles, great aunts and uncles, grand-parents and parents) often gathered after Mass for Sunday Dinner. The melding of Southern cooking and Sicilian Italian cooking often brought some interesting results. One of my favorites was my Aunt Mary's Fried Cardoons.  (understand that southerners love deep fried anything and that Italians love food)  These lovelies aren't available for long each year (come the first frost..they're outta here), but when they are…….oooooooh my!
What, you say, is a cardoon?
The cardoon (Cynara cardunculus), also called the artichoke thistle, cardone, cardoni, carduni or cardi, is a thistle-like plant which is member of the Aster family. It is a naturally occurring variant of the same species as the Globe artichoke, and has many cultivated varieties. It is native to the Mediterranean, where it was domesticated in ancient times.
Those purpleish flowers are the 'throwback' to the aster family…hmmhm.
Typically grown in the same areas that grow the artichokes you find at your local grocer, but more difficult to find. If you know a local farmer who grows artichokes, ask about Cardoons.  Or check at your local farmers market. If all else fails..grow your own. Seeds are readily available from a number of online resources, and if you manage to find or know an old time Italian farmer, you might just get lucky and he'll share a few seeds. Though not a particularly 'pretty'  plant in your garden, these plants can yeild some of the best eating, if only for a short while. I've had them baked, stewed, and fried. Fried being my favorite, and it makes a perfect appetizer during tail-gates or just for a family treat!
So , lets get to it…how on earth do you cook these?  This is my aunt's original recipe, I haven't dared to change it.
Ingredients
2 qt Water
2 tb White vinegar

1 lb Cardoon ribs (about 4 lg -ribs); leaves removed

2 lg Egg yolks; beaten with 1 -Tbsp water.

1 lg Egg; beaten

1 c Dry bread crumbs

1/4 c Parmesan cheese; grated (more for sprinkling later)

Salt; to taste

Fresh ground black pepper; to taste

Vegetable oil; for frying

Lemon wedges; for accompaniment
Preparation
In a bowl, combine the water and vinegar.
Remove the tough outer strings of the cardoon ribs. Cut the ribs into 2-inch lengths, adding them to the vinegar water as you work.
Drain the cardoon ribs, transfer them to a large saucepan of lightly salted water and boil until very tender, about 30 minutes.
Drain and pat dry; let cool.
In a shallow bowl, combine the egg yolks and egg.
In another bowl, toss the crumbs with the Parmesan, 1/2 teaspoon of salt and 1/8 teaspoon of fresh ground black pepper.
Dip the cardoon in the eggs, then dredge in the crumbs, pressing to help them adhere.
Shake off any excess and set the cardoon on a parchment or waxed paper-lined tray.
In a medium skillet, heat 1/2 inch of vegetable oil over moderately high heat.
When the oil is very hot, add the cardoon, 5 or 6 pieces at a time (don't crowd your frying pan), and fry until golden and crisp, about 1 1/2 minutes per side.
Transfer the cardoon to a wire rack set over a baking sheet. (This allows them to drain and not 'sit' in the excess oil
Sprinkle lightly with salt and grated parmesan cheese
Serve hot or at room temperature with lemon wedges.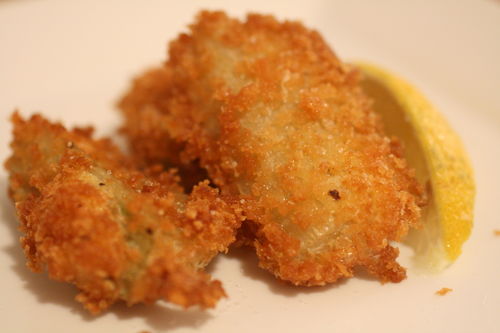 Cardoons taste like artichokes, with a slight lemon zest (yeah the fresh lemon really brings that out). And definately DO NOT taste like anything else you might have ever tried.. Welcome to fall!