Disclosure: This post may contain affiliate links. I receive a small commission at no cost to you when you make a purchase using my links.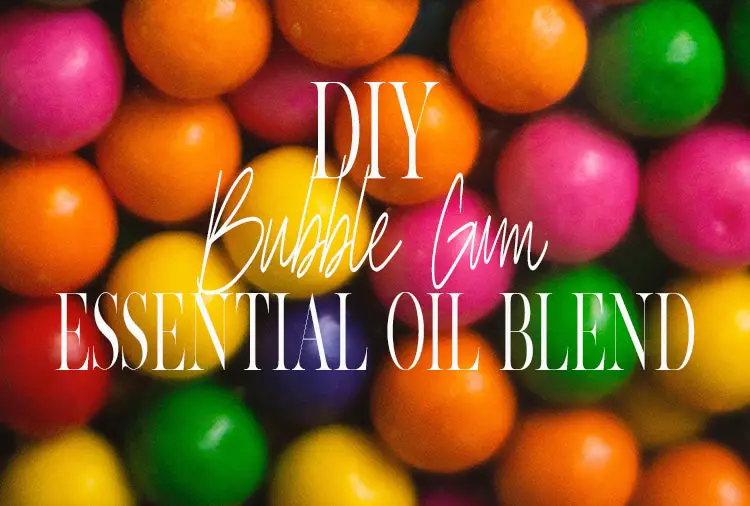 Kids love bubble gum. Parent's probably not so much, for a myriad of reasons. But now with this Bubble Gum Essential Oil Blend for your Diffuser or as an Air Refresher spray, you can treat your kiddos to that timeless sweetness of bubble gum, without all the mess.
This easy to make diffuser blend so closely mimics bubble gum that I wonder why I hadn't tried before!  You can also make a room spray and use it to scare all the spookies out of the closet or from under the bed.  Kids love it and adult's will love that it reminds them of simpler childhood days.
Ingredients:
4 drops  Grapefruit Essential Oil
2 drops  Ylang Ylang Essential Oil
1 drop   Eucalyptus Radiata Essential Oil
Follow safety precautions and learn about the specifics for each of these essential oils. Grapefruit essential oil can cause skin irritation, so this blend needs to be used with caution in skin care.
These oils should not be ingested.
Keep this and any essential oil blends/products out of the reach of children.
Air Freshener Spray
4 oz. clean spray bottle with a fine mist setting (do not use a bottle that previously contained cleaning products or hair products such as hair spray).
30-40 drops Bubble Gum essential oil blend.
1.5 fl. ounces of distilled water and 1.5 fl. ounces of high-proof alcohol. Alternatively, you may omit the alcohol and increase the amount of distilled water to 3 fl. ounces. The alcohol helps the aroma linger for a longer duration. When working with alcohol in aromatherapy sprays, Vodka or Everclear (I'll bet you wondered what to do with all that Everclear!)are suitable. Isopropyl alcohol or rubbing alcohol should be avoided for aromatherapy use because they typically contain additives, and the aroma of these types of alcohol may overpower the aroma of your room mist.