Disclosure: This post may contain affiliate links. I receive a small commission at no cost to you when you make a purchase using my links.
There's not an ounce of chocolate in this fudge. So if you're looking for chocolate move along. If you're a caramel lover, you've come to the right place! Kids love this creamy caramel fudge and so do the grown ups! Its super rich but oh so wickedly delicious.
I started experimenting with this recipe when I was a 'poor' graduate student and buying extras like chocolate and cocoa powder were just not in the plan.
I've heard this called Russian Fudge (guess Chocolate was an issue for them too) but the recipe calls for corn syrup, which I cannot stand. And I think this is probably similar to what some call RedHead Fudge (sorry Vicki)(though I'm not sure). What I do know, is that this creamy caramel fudge is incredibly rich and delicious. Caramel lovers will gobble it up! My recipe here is a little extended from my original version, which included melting the brown sugar with the white sugar milk mixture. The candy came out a little grainy, which I think was the sugar never being melted enough. So, I did the simple syrup and it worked! I use real butter, real vanilla and half and half. I've not tested this with margarine or skim milk so I couldn't tell you the results. But you're making candy, not diet food, so go ahead and make the full on recipe!
Print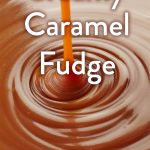 Caramel Fudge
---
---
1 cup

light brown sugar

1/2 cup

water

3 cups

white sugar

1 cup

half and half

5 tbsp

Butter

2 tsp

pure vanilla
pinch of coarse ground salt
---
Instructions
Foil Line and Butter a 9X9 baking pan or corning dish.
In a small heavy saucepan (I use a cast iron pot), stir brown sugar into 1/2 cup of water, heat to boiling and reduce to simple syrup. Set aside.
In a large saucepan, mix 1 cup of milk and 2 cups sugar. Over low heat stir occasionally while you are proceeding with the following.
Slowly melt one cup sugar in a medium iron skillet stirring constantly until it is melted to syrup and slightly browned. When you first start to melt the sugar it is hard to stir but this is normal. Pour the caramelized sugar syrup in the warm milk/sugar mixture. Raise heat to medium heat, stir until all sugar is dissolved. Add in the brown sugar syrup.
When the mixture starts to boil, add the butter. Continue to stir constantly.
Cook to the soft-ball stage (this is where you need a candy thermometer if you haven't made candy before, I use one just because)235° F–240° F
Remove from heat, add the vanilla and beat with hand mixer until creamy. (The more you beat after it is creamy, the more air you whip into the fudge and the crumblier it will be. If you want creamy fudge, stop when it is glossy) Set the pot aside (this doesn't take too long to begin really getting thick) When the mixture starts to stick to the pot and is thick, pour into the buttered 9X9 pan. Let cool, cut and enjoy. This will keep, covered in the fridge for a couple of weeks, if it lasts that long!
Notes
If you like salted caramel, sprinkle lightly with coarse ground sea salt before the candy hardens.
You can add in pecans, cashews or pistachio chips if you like the nutty fudge. I'm a purist!