Disclosure: This post may contain affiliate links. I receive a small commission at no cost to you when you make a purchase using my links.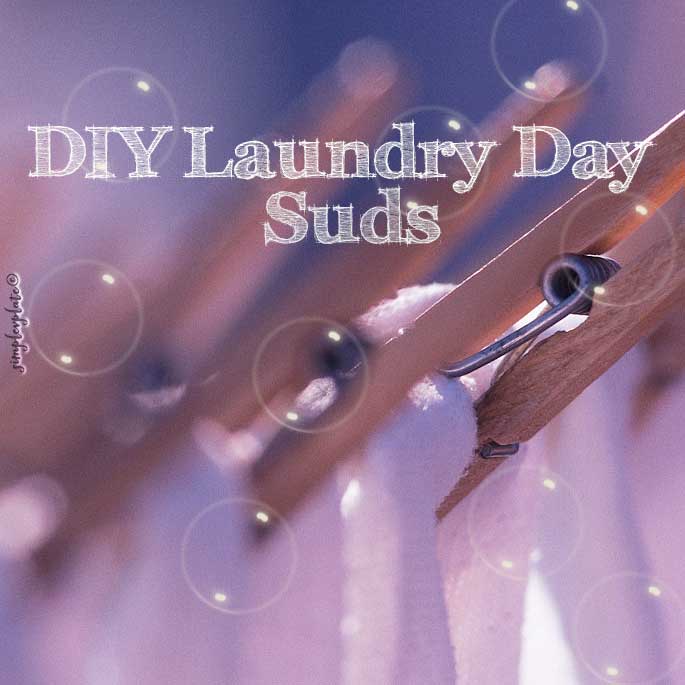 Let me offer you the easiest, least expensive DIY Suds you can make right there in your kitchen or laundry room and all for about a $10 initial investment.
If you haven't heard yet (and why haven't you), we have identical twin grandsons on the way!  And I'm pulling out all the stops for these two loves, including going back to some of my earth mama roots. When my kids were  young'uns I made our hand and bath soaps, laundry detergent, household cleaners and more. Not only was it more frugal, but it was all around better for our family.  Kids grew up, mama got lazy and well you know the rest of the story. But, lately, I've felt a budget pinch like I haven't since back in those days.  So I'm adding a new section to Simple Plate, and I hope you'll join me in some of these posts.  I hope to bring you all my own best tips and some great ones from around the web.
With Pinterest being the #1 spot for finding how to posts, there are now  thousands if not millions of posts on this very item. I've seen a lot of 'recipes' that add  ingredients like Dove soap (which I do not recommend) and recipes that even suggest you microwave ingredients to get to a liquid state. UMMMMMM not a wise thing to do unless you are dressed in chemical gear!
Here's what you'll need to get started.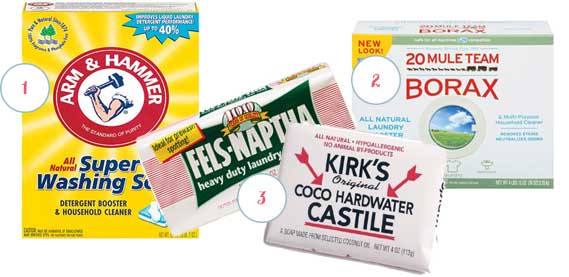 Three simple ingredients! All of these are available at most Wal-Mart stores or at your local grocery or hardware store.   Easy to find ingredients and even easier and quick to make ! (If you prefer to buy online you can purchase a kit or individual products at Amazon)
Note: This soap/detergent works in all HE front-load washers (more on this below)
1 bar (or 4.5 ounces) of finely shaved bar soap (Kirks-Castile,or Fels-Naptha)
1 cup of borax
1 cup of washing soda
Thoroughly stir together for 5 minutes pour into airtight container.
Use 1 Tbsp per load (or 2 Tbsp for heavily soiled loads).
That's it! (thought there would be more?)
You have your own home made laundry detergent. The kicker to this is  you'll have enough of the borax and washing soda for about  4 more  batches (5 in all) and at a cost of about $1.00 a bar for the  Fels-Naptha ingredient, you've saved 3 times or so what you'd spend buying the popular brands.
Now for some FAQs
I have an HE washer. Can I use this soap?
Yes! The recipe above is low suds (if used in proper measurement), without all the added fillers and perfumes that make HE detergents (along with the advertising gimmickry) so expensive. I hold no responsibility for how you use this, so follow the directions, please.
What about my Septic field lines and tank?
Non-toxic, no fillers, no phosphates. Perfectly safe for your tank's bacterial level and nothing to clog the field lines.
A few things about this laundry detergent that we have made here, you'll want to remember.
While the 'detergent' itself has a fresh lemony smell (if you use the Fels-Naptha bar)  your washload, won't have a 'smell' at the end of the load. Just clean.   If you use the Castile soap, there won't be ANY smell other than  fresh and clean, period.  If you must have a 'smell'  adding a drop or two of an essential oil to your wash load should produce exactly what you want.
Using bar soap such as Dove, while you might want to use it on your body, you won't want to use it in your laundry, the extra moisturizing ingredients tend to spot fine washables. And colored soaps, well if there's dye in the soap, its sure to 'come out in the wash'. Use caution when using any other bar soaps than recommended.
For babies and kids clothing and for sensitive skin (except the  most stained items and then I do a pre-wash soak using the Fels-Naptha) I recommend using the Kirks Castile bar.
Adding 1/2 cup White Vinegar to the rinse not only deodorizes but sanitizes and removes any remaining soap residue and mineral deposits in hard water.
I've given you my 'recipe'  and now I'm going to share some of the best DIY cleaning tips from around the web (Click on the image to be auto-magically taken to the site)
  I hope you'll visit the sites we've mentioned here and leave a comment or two for the authors! Some darned fine information can be gained on all these sites!
I don't claim to have the corner on the laundry detergent recipe, its just the one I use and I hope you will too! I used this recipe for over 18 years and I'm back to using it this week. Its easy, and fast to make and its frugal! What more could you ask for?
Have your own recipe for a DIY CLEANING PRODUCT or  some other great DIY post you'd like us to look at? Leave us a link in your comments! Who knows? Your post could be our NEXT featured article here on Simple Plate!