Disclosure: This post may contain affiliate links. I receive a small commission at no cost to you when you make a purchase using my links.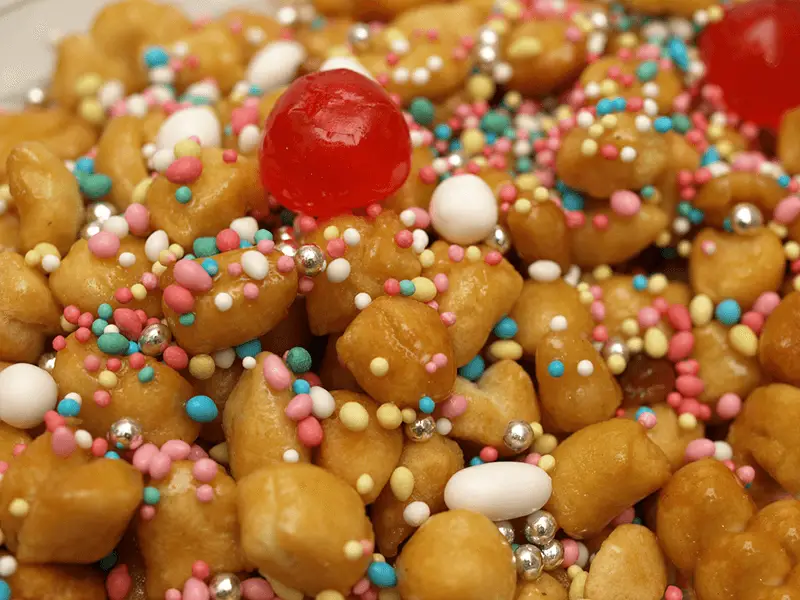 These  wonderous little 'doughnut' like delicasies, struffoli, grace italian tables at Christmas, Easter, the Feast of St Joseph, weddings, baptisms and more.  Struffoli, tiny deep fried dough balls bathed in a syrup of honey and citrus rinds and decorated with colored Jordan almonds and sprinkles and candied fruit. Struffoli are to the Italian Easter what the easter bunny is to the American child.  It's just not Easter without it!
The candy confetti and dragees can change for a Christmas treat, but what doesn't change is the celebration and the love behind these! My grandmother did all the kneading and mixing by hand. I'm lazy, I use my kitchenaid mixer and dough hook. Either way, they're light, fluffy and tender and a perfect addition to any holiday dinner.
Print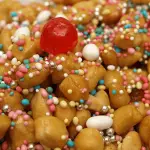 Struffoli
---
Author:

Total Time:

4 hours 22 minutes
Description
Struffoli, puffy little balls of fried dough drenched in honey, are the quintessential Christmas sweet in Naples and other places in Italy, especially the Central and Southern regions. Not just for Christmas, wonderful at Easter and other special gatherings.
---
6

eggs (regular size)

2 Tablespoons

sugar

1½ teaspoons

canola oil

3 cups

all-purpose flour

¼ teaspoon

salt

½ teaspoon

baking powder

½ teaspoon

fresh lemon zest

½ teaspoon

fresh orange zest
flour (for dusting)

1 quart

peanut oil (for frying)
Glaze
1

1 lb jar honey (clover or orange blossom)

1 teaspoon

freshly grated orange rind

4 oz

. slivered almonds (toasted or small jordan almonds)
Tiny round (colored sprinkles for decorating)
Dragees (edible silver decorations)
Chocolate chips or mini chocolate Chips
---
Instructions
Place flour, salt, and baking powder in a large mixing bowl and make a well in the center.
In separate bowl, beat eggs, sugar, lemon and orange zest, and 1½ teaspoons oil until foamy.
Add egg mixture to well in center of flour.
Mix and knead the mixture well, forming a dough. (use your kitchenaid or your hands)
Knead until smooth in a mixer with a dough hook
Form dough into ball and allow to rest for 10 minutes.
Place dough on a lightly floured surface, and divide dough into 8-10 smaller balls.
On a lightly floured surface, roll each ball into a "rope" about ½" wide and 10 inches long.
Using a sharp knife, cut each rope into 1/3 inch pieces and hand roll into balls the size of marbles.
Dust cut pieces with a bit of flour.
Heat 1 quart peanut oil to 350 F.
Shake off excess flour and drop the balls into the oil a few at a time. DO NOT CROWD THE PAN. (YOU WON'T GET EVEN BROWINING OR COOKING)
Cook until lightly golden, turning them constantly with a wooden spoon.
Remove each batch of balls with a slotted spoon or wire mesh and place on heavy brown paper or paper towels to drain.
Continue frying until all balls have been fried.
Place drained, fried balls into a large mixing bowl or roasting pan, separating each new layer of cooked balls with more paper towels.
To Make The Glaze
Pour the honey into a large frying pan, and heat until bubbly; remove from heat. (Honey can be thinned with 2-3 Tablespoons of water to make a less sticky/sweet coating, if desired.)
Stir in grated orange peel and pour honey mixture over the fried dough balls.
With a wooden spoon, gently stir and toss each layer of the fried balls until all are evenly coated with honey.
Allow to cool completely then stir in chocolate chips, toasted almond slivers, and colored sprinkles to decorate.
Optional: Before adding sprinkles, use hands to place honey coated balls and chocolate chips on to a large plate, mounding them into a cone/pyramid shape. Sprinkle with colored sprinkles,dragees and almonds.
Notes
NOTE: If struffoli are too sticky to handle while shaping, slightly wet hands with cold water to help keep them from sticking to your hands while shaping.
Struffoli will stay fresh if they are stored tightly covered in a cool, dry place. Do NOT REFIGERATE
Prep Time:

4 hours 10 minutes

Cook Time:

12 minutes

Category:

Dessert

Cuisine:

Italian
Tradition dictates these little balls of deliciousness are formed into a pyramid shape at Easter and a wreath or circle at Christmas.  Enjoy this little treat as much as I do anytime, but be aware you won't have left overs.