Disclosure: This post may contain affiliate links. I receive a small commission at no cost to you when you make a purchase using my links.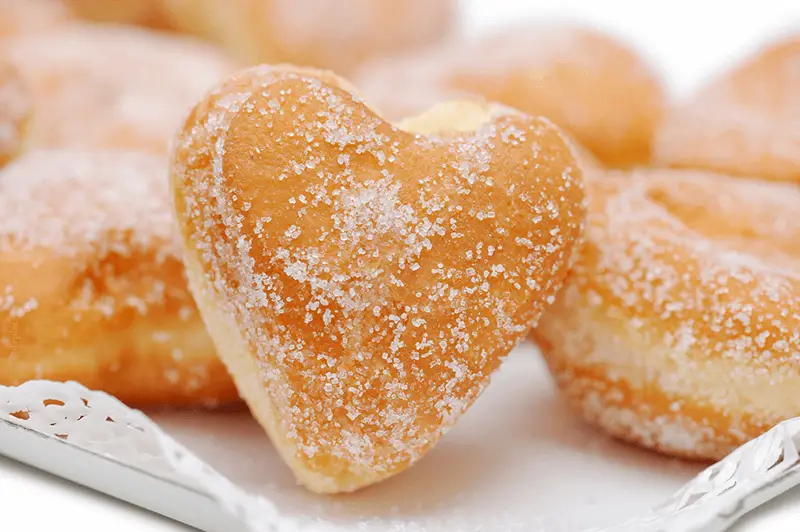 Hybrid sweets, all the rage in New York and Chicago, have been served in southern homes for decades. We never gave a 'name' to the biscnut, but we made em, regularly. A lot of flavor, and not much money, they competed well with the likes of Krispy Kreme and Dunkin. And the kiddos got to help. So it became a family affair.
Endgrain restaurant in Chicago calls the biscnut, " a terrifying delicious biscuit/doughnut hybrid that's destined to give the cronut a run for its money" .  They make the biscnuts, slice them horizontally like you would a biscuit, and slather on the cream filling. They frost and toss like your regular Dunkin fare, but a delicious  cousin to the cronut was 'born' there they say. Little did they know, that southern women have been making  the biscnut for right in their own kitchens. A little less decadent, but a whole lot more tasty. I make mine from angel biscuit dough and cut them into my favorite shapes. This month of Valentines and Mardi Gras, they could be little pillows of deliciousness shaped like beignets or tiny hearts. Whatever you shape them as, they're delicious and simple to make.
Print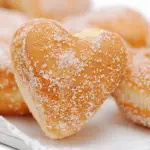 Angel Biscnuts
---
Author:

Total Time:

43 minutes

Yield:

10

-

1

2

1

x
Description
A delicious cross of southern biscuit and yeast biscuit goodness
---
1 teaspoon

active dry yeast

1 cup

whole milk (at room temperature)

2 1/2 cups

all purpose flour

2 1/2 teaspoons

baking powder

2 tablespoons

sugar

1/2 teaspoon

salt

8 tablespoons

butter (cold Oil, for frying)
---
Instructions
Mix the yeast into the room temperature milk. Set aside while you assemble the rest of the ingredients.
Place all of the dry ingredients into the bowl of a stand mixer fitted with the dough hook. Mix briefly to combine.
Cut the cold butter into 1/2­inch cubes, and add them to the dry ingredients. Work the mixture on a low speed for about 2 minutes, or until the butter is mostly incorporated into the flour, with some larger flakes of butter still visible. Mix more than you would for traditional biscuits or a pie dough: Most of the butter should be incorporated into the flour.
Add the milk and yeast to the mixer, and mix on a medium speed, just until the mixture starts to cohere and there is no dry flour in the bottom of the bowl.
Dump the mixture out onto a floured surface, and pat and knead it together until it forms a smooth ball. Roll the dough out to about 1/2­inch thickness, and use a doughnut cutter, a knife or a cookie cutter, to cut out as many donuts as you can.
Re-roll the scraps
Set aside your donuts in a cool spot for 30 minutes. (you do not want to put this in a warm spot ­­ that would cause the butter in the biscuits to melt and would make these a mess to work with.)
When the donuts have rested, heat about 2 inches of oil in a wide, deep pan, and bring it up to 350° F
Place a few donuts at a time into the hot oil (fewer is best ­­ you don't want the oil to bubble over and you want even browning). They need about 1 1/2 minutes per side.
When they have turned a dark golden brown and have puffed up to about twice their size,remove from the oil and drain on a wire rack with paper toweling beneath.
Toss the donuts in cinnamon sugar or powdered sugar, or glaze them.
Prep Time:

40 minutes

Cook Time:

3 minutes

Category:

Dessert

Cuisine:

Southern
Keep in mind, while a canned biscuit can certainly make a biscnut of acceptable flavor and quality,  the angel biscnut will certainly take you to the level of a  hybrid 'cronut' and give your friends and family a treat that only the 'lucky' have been able to taste before!