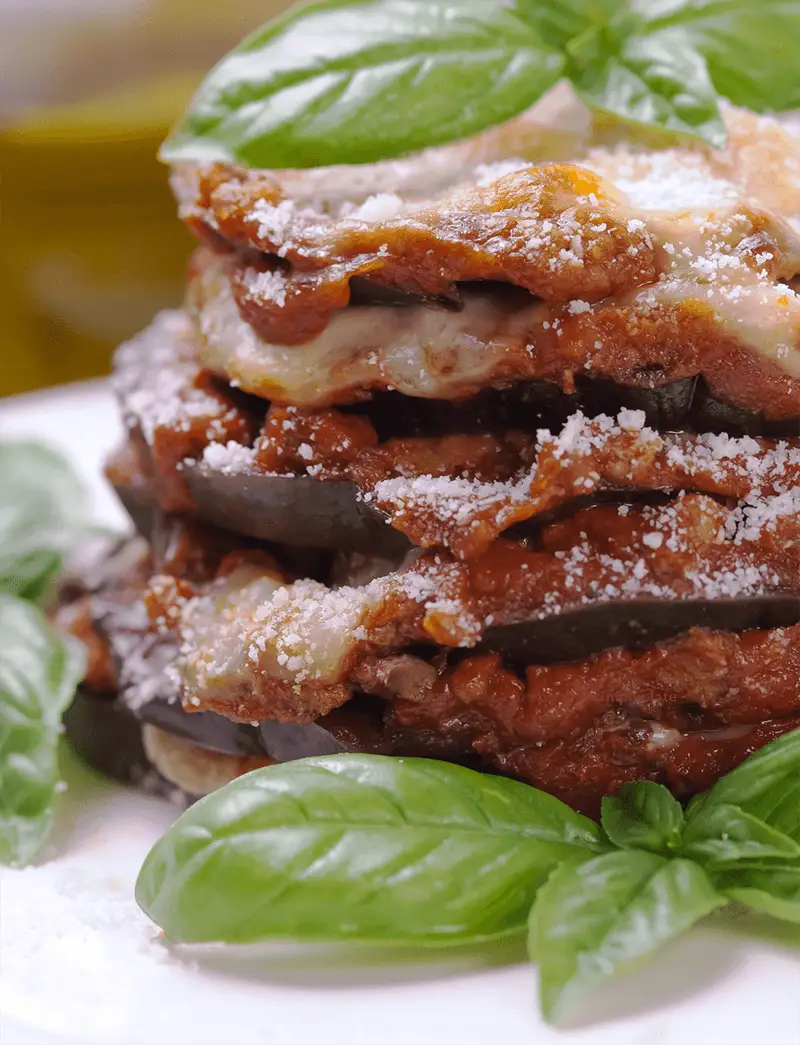 Eggplant Parmesan Parmigiana di Melanzane, I guess I'm a one in a million child who's always loved it! Nona, knew just how to keep the sweetness in the eggplant and her sauce well, it was something to behold. Since I've been going through my old recipe box, I've found a lot of Nona's recipes I thought I had lost forever! While she didn't read or write English, she always had me by her side at the grocery and in the kitchen. I learned a lot there. I learned the approximate measure of the palm of her hand. I learned what a 'pinch' of anything was and I learned to taste food as I cooked it. (You could have the best recipe in the world, but if the seasonings are off, well then you've got nothin!)
Over the years, I adjusted the flavorings of the recipes I'd written down, and made some method adjustments for more modern kitchens and appliances.  This Eggplant Parmesan, is no exception. You can of course make an 'americanized' version using breadcrumbs,like the 1000's of  recipes that exist, but this, this is the real deal. I guarantee, even if you haven't 'loved' eggplant before you're gonna love it now!
This is an ancient Sicilian dish which, in all cookbooks, is erroneously explained as obtaining its name from Parmesan cheese, which is one of the ingredients. Nothing could be further from the truth. The name "parmigiana" does not derive from that of the cheese but is the Italianization of the Sicilian dialectal word "parmiciana", which refers to the slats of wood which compose the central part of a shutter and overlap in the same manner as the slices of eggplant in the dish. So there ya have it!
Traditionally, the recipe is made slicing the eggplant lengthwise to overlap in the baking dish (kind of like lasagna would), but I prefer to slice the eggplant round (mostly because I'm noshing the whole time I'm cooking) Either way, its a glorious dish and one you just HAVE TO TRY. Make your sauce without meat, a day or so in advance so the flavors have time to meld.
Prep time:
Cook time:
Total time: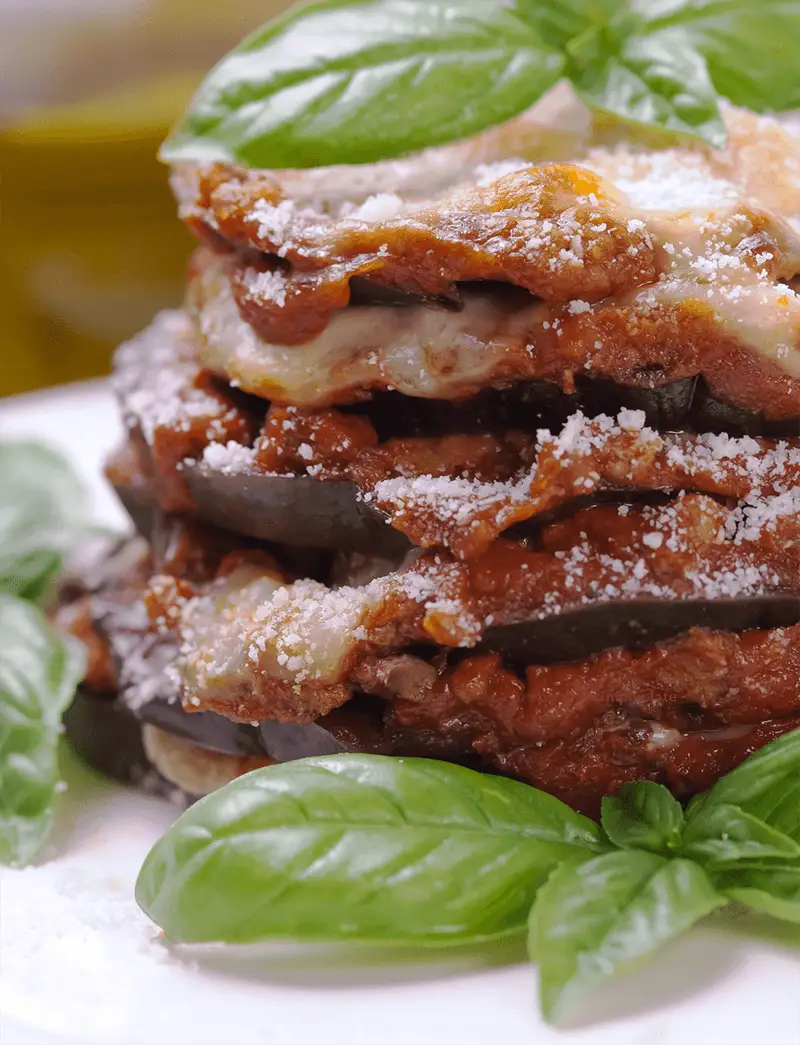 Ingredients
2 pounds eggplant, sliced ¼ inch thick
Kosher salt
¾ pound shredded fresh mozzarella
1½ cups Parmigiano/Parmesan cheese (grated)
½ lb smoked Provolone cheese (or any similar smoked cheese such as gouda)
flour to coat the eggplant
20 basil leaves
1 quart peanut or vegetable oil for frying (NOTE: Do not use olive oil)
1 cup of Nona's Tomato Sauce or any prepared tomato sauce you like
Instructions
Salt eggplants all over with 1 tablespoon kosher salt.
Layer in a large colander set in the sink. (Lay a plate over the eggplant and weight the top with cans to help press out excess liquid.)
Let drain about ½ hour, rinse and pat dry.
Place the flour on a plate.
Dip each slice of eggplant into the flour to cover on both sides. (Work quickly, as you do not want the eggplant to absorb too much flour or they will become too soggy to fry.)
Fry the eggplant slices in preheated oil (approx 375 degrees)until they are golden brown.
Remove them from the oil and place them onto a brown paper to absorb any excess oil.
Set aside.
Preheat oven to 325 degrees
Into your casserole dish begin to layer your ingredients in this order
Tomato sauce (use SPARINGLY – too much will make it soggy)
Eggplant
Parmigiano cheese
Mozzarella cheese
Smoked provolone cheese
Fresh basil leaves
Do this for 2 layers (might be a little higher than the top of your casserole dish)
The Top and final layer is simply sauce and parmesan cheese.
Bake in your preheated oven for 1 hour
Turn off the oven, open the door slightly and let sit for an additional 10 min
Remove from oven and let cool for 40 min at room temperature before serving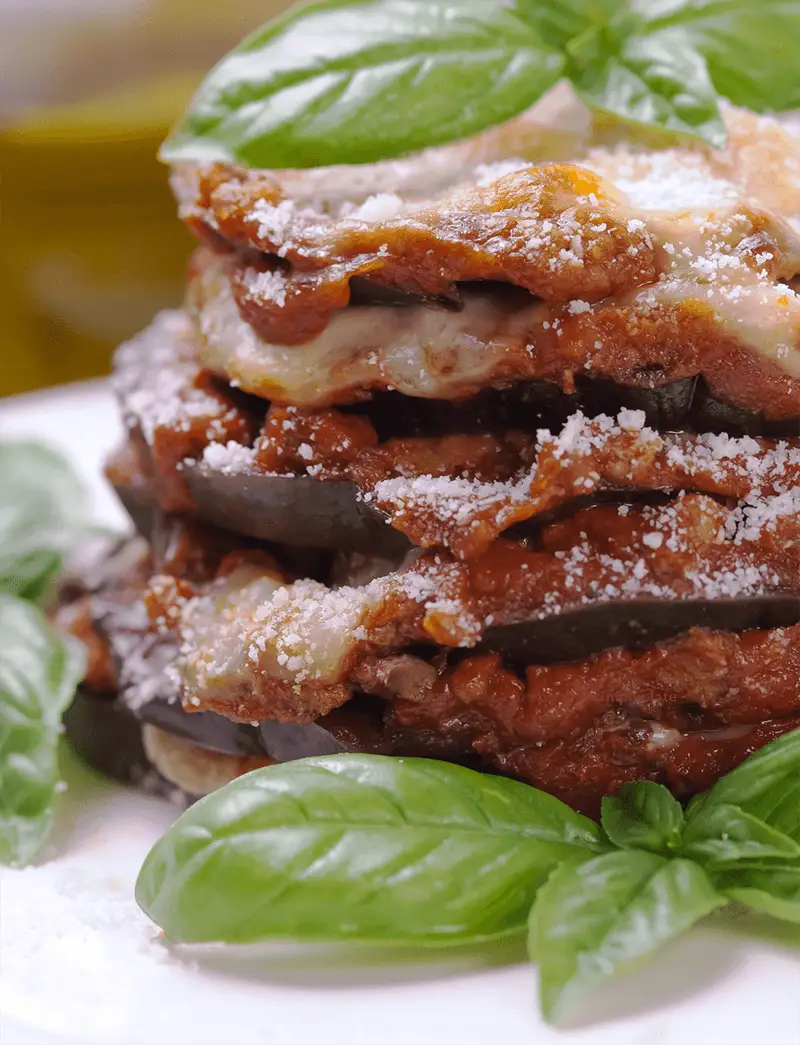 Ingredients
2 (28 ounce) cans crushed or pureed tomatoes
1 (28 ounce) cans peeled plum tomatoes
2 cloves garlic
1 small onion, diced
6 cloves
1 teaspoon basil
1 teaspoon kosher salt
¼ teaspoon fresh ground pepper
2 tablespoons sugar
¼ cup extra virgin olive oil
¼ cup grated cheese
Instructions
In a large pot, sauté onion and garlic in olive oil.
Empty plum tomatoes into large bowl and crush with your hands.
Add all ingredients to pot and simmer for 3 hours.