Disclosure: This post may contain affiliate links. I receive a small commission at no cost to you when you make a purchase using my links.
My Nona made the best ever meatballs. Ask any Italian kid and they'll tell you Authentic Italian Meatballs are little bites of heaven! There's no frozen meatball marketed that can match the flavor and richness of a homemade one. Firm, but never tough, they make an appearance on Sunday tables, weeknight po boy sandwiches, cocktail appetizers and you might find a kid snagging one for an after school treat! Since its National Meatball Day, I'm sharing my Nona's Authentic Italian Meatball recipe and directions to make the best EVAH meatball po boy sandwich.  A quick and easy weeknight way to enjoy homemade meatballs. Note that we are only browning the meatballs in the oven not fully cooking them. They should complete cooking in the tomato sauce of your choice.
Print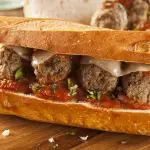 Authentic Italian Meatballs
---
Author:

Yield:

12

meatballs

1

x
4 ounces

fresh white bread (crusts removed and bread cut into 1/2-inch cubes (about

2

unpacked cups))
One-third cup whole milk (plus more as needed)

1

medium onion (minced)

8

cloves garlic (finely minced)

2 ounces

grated Parmigiano-Reggiano

3 oz

+/- fatty pancetta (browned off)
One half cup loosely packed fresh parsley leaves (minced)

4 teaspoons

coarse ground salt
Freshly ground black pepper

4

large egg yolks

1 teaspoon

dried oregano
Two Thirds lb ground beef
Two Thirds lb ground veal
Two Thirds lb ground pork
Nona's Simple Tomato Sauce or Authentic Bolognese Sauce
---
Instructions
In the bowl of a stand mixer, combine bread with milk, tossing to coat.
Let stand, tossing occasionally, until bread is completely moist, about 10 minutes.
Squeeze bread between your fingers or mash with a spoon to make sure there are no dry spots ( add more milk 1 tablespoon at a time until bread is moist throughout if needed)
Add onion, garlic, Parmigiano-Reggiano, parsley, salt, pepper, pancetta, egg yolks, and oregano to bread/milk mixture.
Set mixer bowl in stand mixer and attach paddle.
Starting at low speed and gradually increasing to medium-high speed, beat bread mixture until thoroughly blended, stopping to scrape down sides as necessary.
Add one third each of the beef , veal and pork and beat at medium-high speed until thoroughly blended with bread mixture.
Remove bowl from stand mixer and add remaining beef. veal and pork.
Using a clean hand, gently mix meatball mixture, teasing apart ground meat with your fingers, just until ground beef and pork and thoroughly distributed. (don't over mix)
Preheat broiler and set oven rack in upper position.
Form meatball mixture into handball-sized balls and arrange on prepared baking sheet covered with foil.
Broil meatballs until browned on top, about 5-7 minutes
Meanwhile, Heat tomato sauce in a medium pot until simmering and add meatballs.
Simmer until meatballs are just cooked through about 10-12 minutes
Category:

Main

Cuisine:

Italian
To make your meatball po boy, the assembly is simple. You'll need a loaf of fresh italian bread from the bakery or your own homemade. Trim off the ends (you don't want to bite through that hunk of bread to get to your meatballs). Slice horizontally and reassemble as a loaf, wrap in foil and warm in a  350 degree oven for about 10 minutes. We're warming the bread here, not toasting. Remove from oven, open foil and on the both sides of the loaf of the bread loaf spoon on your Simple Tomato Sauce as generously as you wish.  Arrange your meatballs on the bread as desired, spoon on another layer of sauce and sprinkle generously with grated Parmesan Cheese.  Lay on sliced mozzarella cheese and place the bottom half in the oven under the broiler until the mozzarella is fully melted (4-5 min) place the top half back into the oven for about the last minute. Remove from the oven and place the top half onto the bottom half and slice into single sandwich sizes. Serve warm, not hot.  Enjoy! There are as many recipes for meatballs as there are Italians in the US. But I can guarantee you this. These will have you wanting more! Have you ever made homemade meatballs?