Disclosure: This post may contain affiliate links. I receive a small commission at no cost to you when you make a purchase using my links.
Recently our home was flooded. Yeah, we live no where near a river, creek or other body of water. Except  the hundreds of gallons from our upstairs neighbor's place.  In that less than celebratory event I lost all of my technology. Phones, computers (hard drives, monitors, keyboards, the whole magilla!), printers, software, everything.  Slowly I've been replacing that technology, but my cameras are still a total loss. So getting quality photography in this blog is difficult at best. Christmas is coming! (that's my new mantra) I digress…
While I'm waiting to replace the camera and lenses, I'm busy learning  new photo techniques and the ins and outs of my favorite photo software, Photoshop CS5.

Over on I Heart Faces, they have a weekly challenge they call Fix It Friday. The picture Angie left for us to 'adjust'  is precious just like it is… nonetheless I present…my virgin efforts. What da ya think?
Here's the original photo: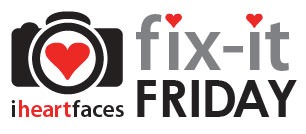 Head over to Iheartfaces and check the other edits!