Disclosure: This post may contain affiliate links. I receive a small commission at no cost to you when you make a purchase using my links.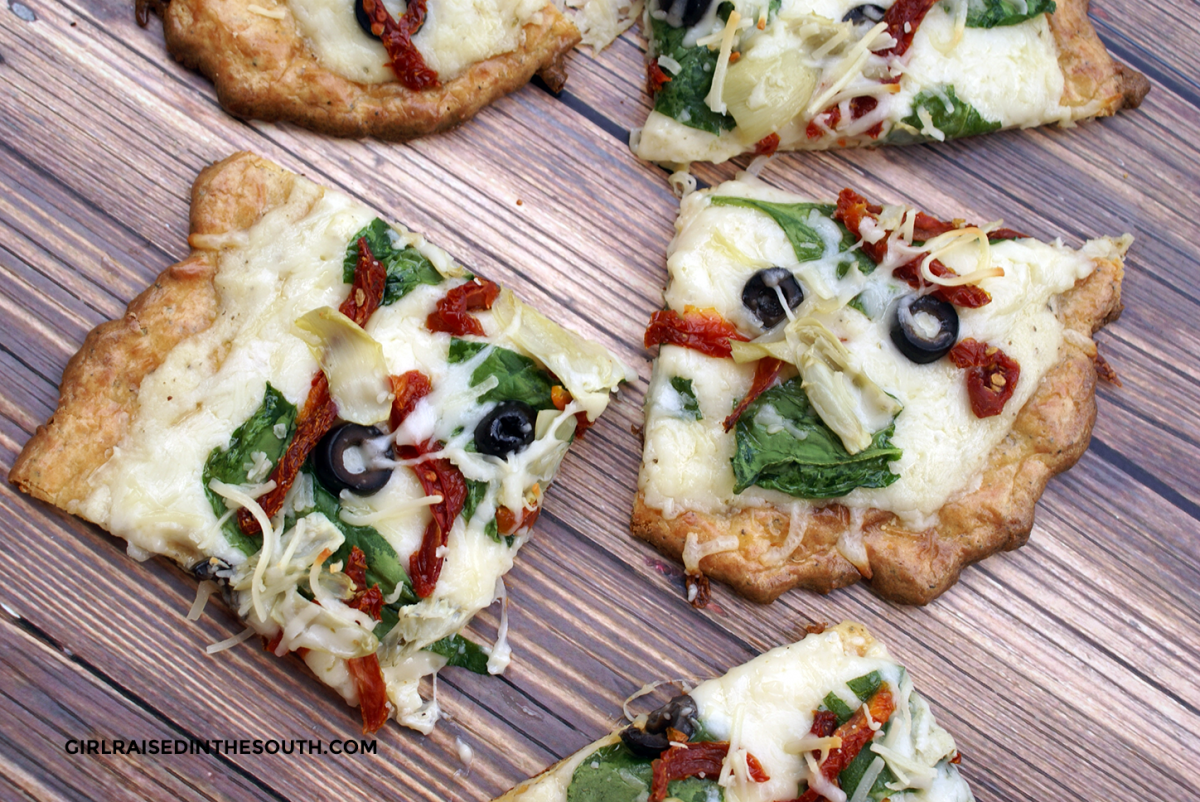 No Dough & Keto Friendly
Confession: I love PIZZA.  Second Confession: I've done away with grain and sugar in my diet, and gone to a more keto (genic) type diet , (specifically NSNG ®,) that Dr. David Perlmutter recommends in his book Grain Brain.   Bigger Confession: Oh how I wanted to cheat!  Until I found that I could make this Keto Friendly Gluten Free Pizza!
In Italy, Pizza is generally a seasoned flatbread, topped with olive oil, maybe a few fresh ingredients like basil, tomatoes and of course Mozzarella di Buffalo. Not at all what we've come to know in America. Deep Dish, Cheesey, full of meats and goodies.  
This recipe takes a cue from the  Pizza of Italy. We used fresh cheeses, olive oil and coconut oil, spiniach, artichoke hearts, basil, black olives and sundried tomatoes. Simple ingredients, and fresh toppings, meld to make the best mid-week dinner ever.  (I've included some in process images so you can see how this all came together).
Print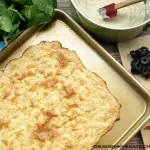 No Dough Pizza Crust
---
Crust
1

8 oz Package Full Fat Cream Cheese at room temperature

2

Whole Eggs

1/4 tsp

Coarse Ground Black Pepper

1 tsp

Garlic Powder

1/4 cup

Fresh Grated Parmesan Cheese
Paprika for Sprinkling
---
Instructions
Preheat Oven to 350 Degrees
Lightly spray a 9×13 baking pan with Coconut Oil.
Using your mixer and flat beater, mix together the Cream Cheese, Eggs, Pepper, Garlic Powder and Parmesan Cheese until combined.
Using an angled spatula, spread onto the baking pan, edge to edge.
Sprinkle lightly with paprika.
Bake for 12-15 minutes or until crust is a golden brown. (It will puff up slightly but flatten as it cools)
Allow To Cool for 10-15 minutes.
To Top The Crust
Spread Pizza Sauce on to the crust with an angled spatula or kitchen brush.
Top with your favorite toppings and add Shredded Mozzarella Cheese to the top.
Sprinkle lightly with additional garlic powder
Drizzle lightly with Extra Virgin Olive Oil (optional)
Pop Back into the oven for 8-10 minutes until the cheese is bubbly and melted
Category:

Main

Cuisine:

American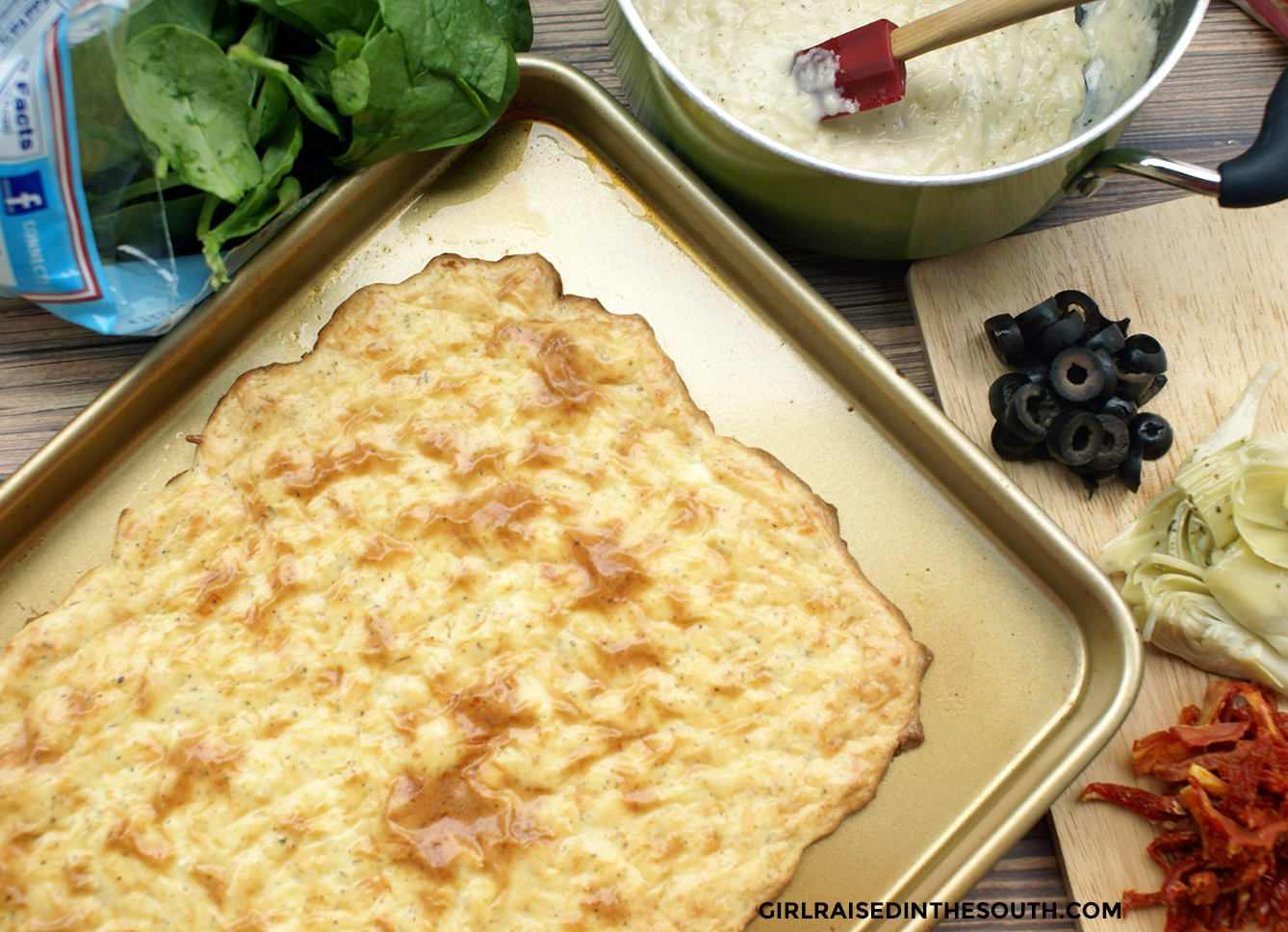 The 'crust' will shrink from the sides,  rise and bubble up a bit but will settle as it cools.
Print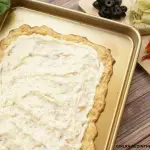 White Sauce For Pizza
---
Description
A delicate Alfredo like white sauce, perfect for Pizza
---
1 Tablespoon

Almond Flour

1 Tablespoon

Salted Butter

1 Pint

of Heavy Cream

2 Cups

of Shredded/shaved parmesan & romano mix
Sea Salt and Course pepper for taste
---
Instructions
In a medium pan over medium heat, add butter and melt.
Add in flour to create your rue for the base of the creamy alfredo sauce
With a whisk, slowly add in heavy cream. (Keep the whisk moving so you don't create any lumps.)
Allow cream mixture to heat slowly, and then add in your cheese.
Slowly mix with whisk. (The whisking action will help the cheese blend into the cream and create a super velvety texture.)
Then add in your salt and pepper. (I like a lot of pepper, so I used 1 teaspoon in mine.)
Continue slowly whisking until your cheese mixture thickens. This will take about 5ish minutes, from the moment you add the cheese into the heavy cream.
Once you see your first bubbles starting to boil, while you are whisking, you alfredo sauce is done!
Allow 15 to 20 minutes to cool before using on your pizza! Enjoy!
Category:

Main

Cuisine:

Italian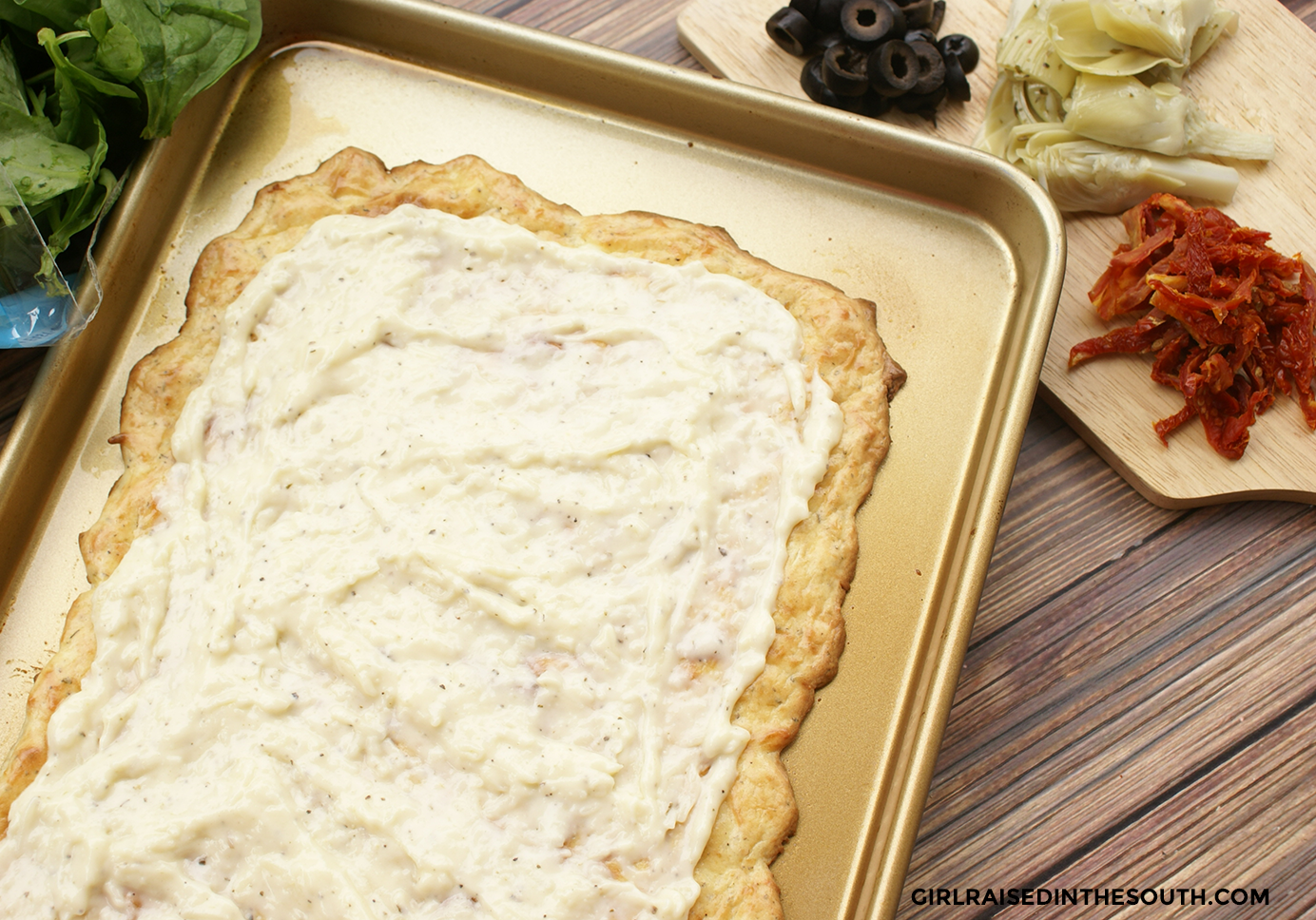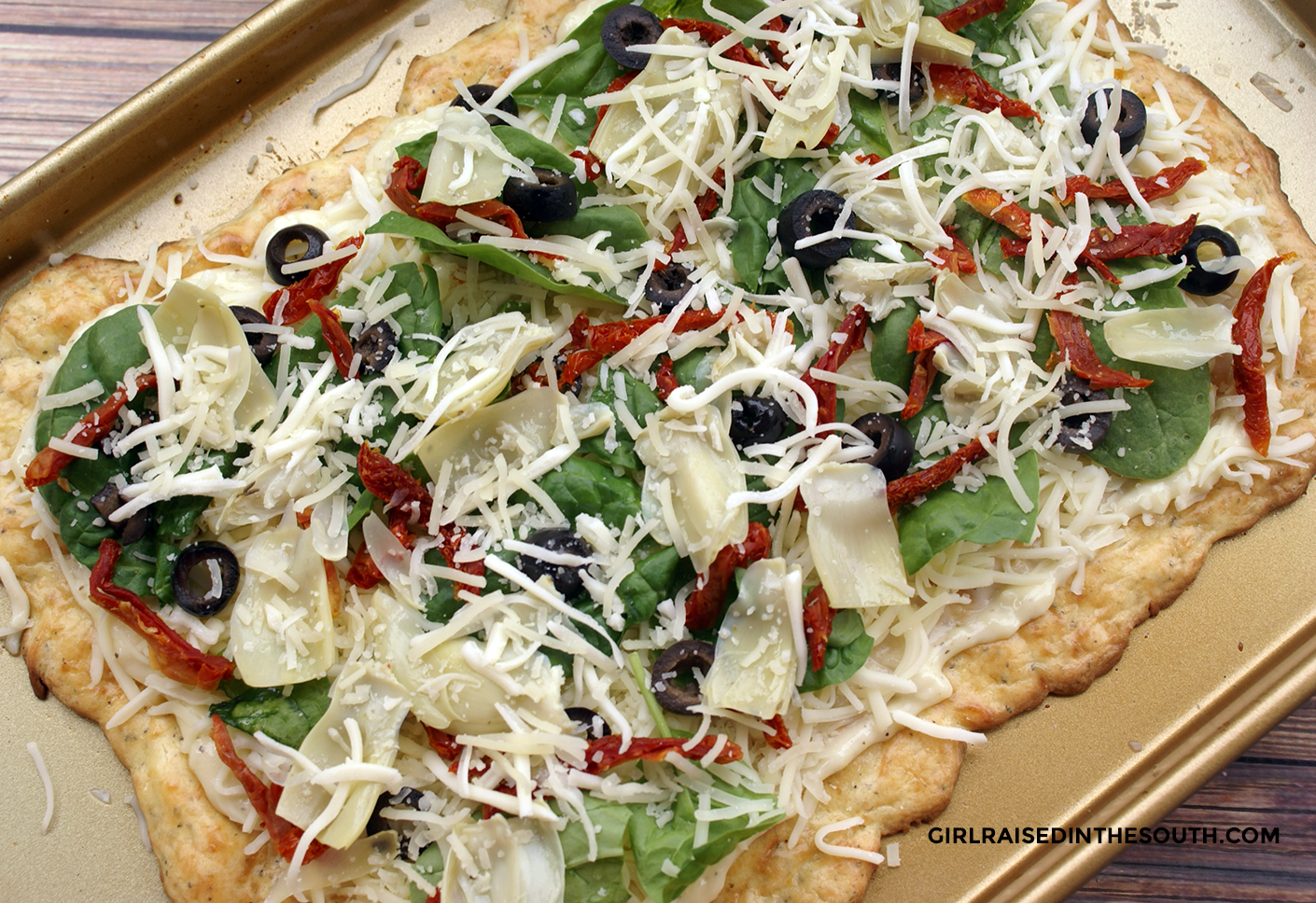 Top your 'crust' with your favorite ingredients, we chose a light vegetable combination.  So fresh and delicious. You won't order out after this one!