Disclosure: This post may contain affiliate links. I receive a small commission at no cost to you when you make a purchase using my links.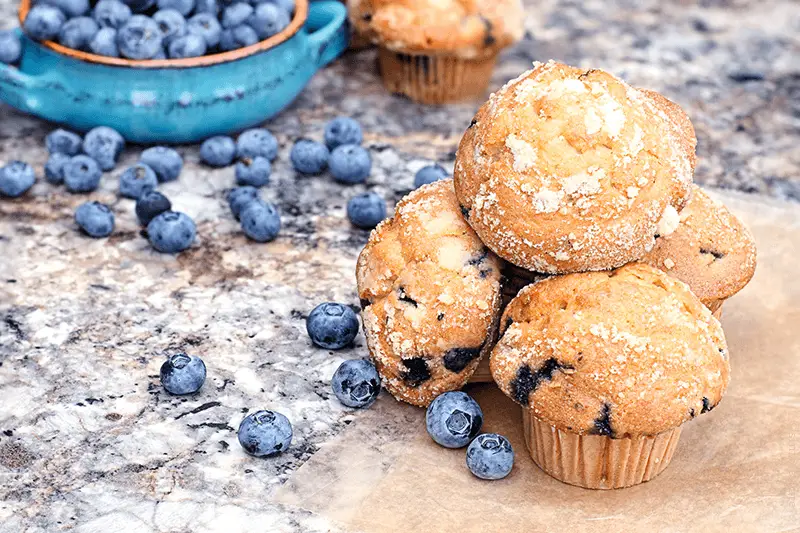 Learning how to make perfect blueberry muffins, doesn't take much time, but does take some attention. There are a few issues when you're making fruit type cakes and muffins and you want to be sure you keep these tips handy.
1. Toss your fruit (in this case blueberries) in a little general purpose flour before stirring into your batter. This keeps the fruit from sinking and from 'bleeding'
2.  PREHEAT your oven. Depending on the age and type of oven you have, it can take as long as 30 minutes for it to reach your preheated temperature. Don't skip doing this. You can buy an oven thermometer at any local kitchen shop or big box store if you think your oven is slightly off. A call to the repair center and you can get that oven calibrated in a little bit of time. Well worth it!
3. Center your rack in your oven.  I used to think my Aunt Bette was a little eccentric when she pulled out the ruler and level when she baked. Its important, unless the recipe says otherwise, cook on the middle rack in the center of it. (PS. Aunt Bette, you were right)
4. Baking powder and baking soda are NOT interchangeable.  Be certain you use FRESH baking powder and baking soda. Old products will prevent those lovely muffin tops.
5. Use EXACTLY what the recipe calls for when using baking powder/soda. Don't improvise. (Trust me on this one)
6. Don't overbeat the batter.  If the muffin recipe says stir in, use a spoon. Don't pull out the mixer UNLESS its called for. Some batters are meant to be a little 'lumpy', whipping the air into butter and sugar mixtures until they're fluffy= good. Smooth creamy batter= usually not what you want if you want that chemical reaction to happen and your cake to rise.
7. Watch the time. Don't over or undercook your cakes/muffins. Invest in a cooking timer or set an alarm for the exact time.
Its seriously NOT rocket science, but there's a good bit of culinary science that happens when you bake. Keep these tips in mind and you'll have beautiful muffins to show for it!
When the kids were little, blueberry everything was in order on the weekends. Be it the perfect blueberry muffins, pancakes, waffles or oatmeal. Needless to say, by the time they were out of grammar school, I was over blueberries!  But those little blueberries are so good for you, I couldn't stay away long. Making some adjustments in the recipe that I've used forever and some accommodation for newer equipment and I've made these beauties special enough for company!  As many of you know I'm an avid fan of Southern Living and back in the 80's they featured a coffee cake very similar to these, I'd figured if it made a good coffee cake, why couldn't it make good muffins? Well I was right, so hat tip to SL  and another to my Granny for the base recipe. Give these a try you won't be disappointed.
Print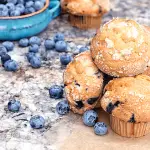 Blueberry Muffins
---
Author:

Total Time:

35 minutes

Yield:

1

2

1

x
---
1/4 cup

regular oats

2 tablespoons

brown sugar

1 teaspoon

ground cinnamon (divided)

1/4 cup

butter (softened)

1 cup

granulated sugar

2

medium eggs

2 cups

all-purpose flour

1 teaspoon

baking soda

1/2 teaspoon

baking powder

1/2 teaspoon

salt

1 1/4 cups

whole buttermilk

1 cup

fresh blueberries
Bakers helper cooking spray
baking cups
---
Instructions
Stir together oats, brown sugar, and 1/2 teaspoon cinnamon; set aside.
Beat butter and granulated sugar at medium speed with an electric mixer until fluffy.
Add eggs, beating until blended.
Stir in vanilla.
Combine all-purpose flour, baking soda, baking powder, salt, and remaining 1/2 teaspoon cinnamon;
Add to butter mixture alternately with buttermilk, ending with flour mixture.
Gently stir in blueberries.
Spoon batter into baking cups coated with cooking spray, filling two-thirds full.
Sprinkle evenly with oat mixture.
Bake at 350° for 15 to 20 minutes or until tops are golden.
Cool muffins in pans 5 minutes; remove from pans, and cool on wire racks.
Notes
To prevent the blueberries from bleeding, toss them in flour lightly before stirring into batter.
Prep Time:

15 minutes

Cook Time:

20 minutes

Category:

Breakfast

Cuisine:

Southern