Disclosure: This post may contain affiliate links. I receive a small commission at no cost to you when you make a purchase using my links.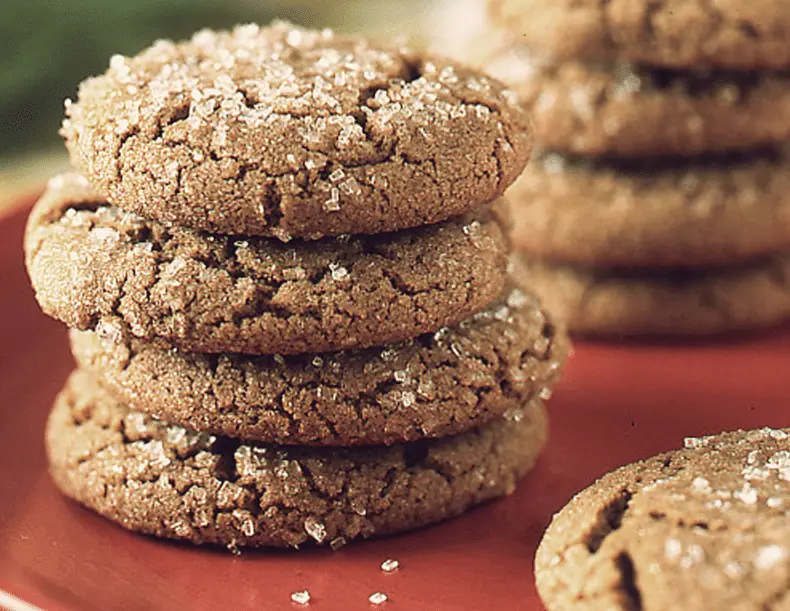 SUPER SECRET GINGER COOKIES FOR SANTA OR YOU
Over the past few days the alarms have sounded more than a few times as friends have asked for some of  my specialty cookie recipes. I've not been too prone to share the old family cookies, but if I don't who will?  So herewith… my super secret ginger cookies.
And now since most of the old folks have left our earthly home, I think its time to share some goodies.. Yesterday was one of those days, and my dear friend Audrey needed some quick and easy cookies to bring for a party at her daughter's gymnastics class party today.  I'd just made a few dozen of these lovelies and the recipe is so simple  I'll share it here too. Audrey said she thought she'd been given the holy grail of cookie recipes..but truthfully, this one was passed on to me by my bestest friend Sissy's, Aunt Sis. 
We must have been 8th or 9th graders and it somehow got into our minds to make gingerbread houses.  Hours later and covered in royal icing, our houses appeared for all to see (I wish I had a picture).  More than slightly lopsided, we thought they were beautiful!  The recipe below can be used for making gingerbread houses (you'll have to make your own template or download this one from Martha Stewart .
Over the years, I've learned some things about baking, burned my share of cookies and tweaked some recipes to get the results I want, so here goes..
There are several variations in the preparation below..read through carefully. If I confused you anywhere, feel free to let me know through my contact page, I'll be happy to help. The picture above is the last variation..my favorite and by far the easiest!
Print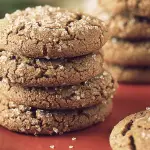 Super Secret Ginger Cookies
---
Author:

Total Time:

25 minutes

Yield:

0

about

2

doz

1

x
Description
Soft, sparkly cookies. Perfect for a holiday party!
---
2

sticks softened butter

2 1/2 cups

confectioners' sugar (sifted)

2

eggs

1 1/4 teaspoons

baking powder

1/2 teaspoon

salt

3 2/3 cups

all-purpose flour

2 1/2 teaspoons

ground cinnamon

2 1/4 teaspoons

ground coriander

2 teaspoons

ground star anise

1 teaspoon

ground fennel

1 teaspoon

ground ginger

1 teaspoon

ground clove

1/4 teaspoon

ground mace
Simple Decorations, optional:
1/4 cup

milk

1 cup

colored or crystal sanding sugar granules
---
Instructions
For Cookies:
Cream the butter and sugar in a large mixing bowl until smooth using an electric mixer.
Add the eggs and mix until combined.
Sift all the remaining dry ingredients in a separate large mixing bowl and mix well. With the mixer on low, slowly add the dry ingredients to the butter mixture until a dough forms.
Remove dough from the bowl and wrap in waxed paper wrap.
Refrigerate until firm, 2 to 4 hours.
Preheat the oven to 350 degrees F and grease or line cookie sheets.
Remove dough from refrigerator and allow dough to sit at room temperature for about 15 minutes, until pliable. Divide dough in half and put on a floured work surface. Using a rolling pin, roll the dough out until it's about 1/8-inch thick. While rolling, flour the work surface and rolling pin, as needed.
Cut out desired cookie shapes with cookie cutters.
Transfer cookies to a greased cookie sheet, spacing them 1-inch apart. (Yield depends on the size of your cutters.)
Lightly brush cookies with milk and sprinkle with sugar granules, as desired.
Bake until firm and edges begin to darken, 10 to 14 minutes.
Remove the cookies from the oven and allow to cool on the cookie sheet for a minute, then transfer to wire racks to cool completely.
This is my favorite way to make these.
Roll the dough into 2 logs that are about 2-inches high and 1-foot long.
Wrap them in waxed paper and place in the refrigerator for 2 hours.
Preheat oven to 350 degrees F.
Once thoroughly chilled, slice the cookies into 1/2-inch thick rounds and roll them as balls into sanding(coarse) sugar.
Place on a parchment paper lined cookie sheet and bake for 8-10 minutes. watch them beginning at 8 min, bottoms should be browned tops cracked but cookies will be soft, cool on rack and let pans cool between batches.(Yield on this method is about 2 dozen.)
Notes
The chilling and rolling and sanding sugar make these crackle and crumble on top and ever so beautiful!
Prep Time:

15 minutes

Cook Time:

10 minutes

Category:

Dessert

Cuisine:

Southern