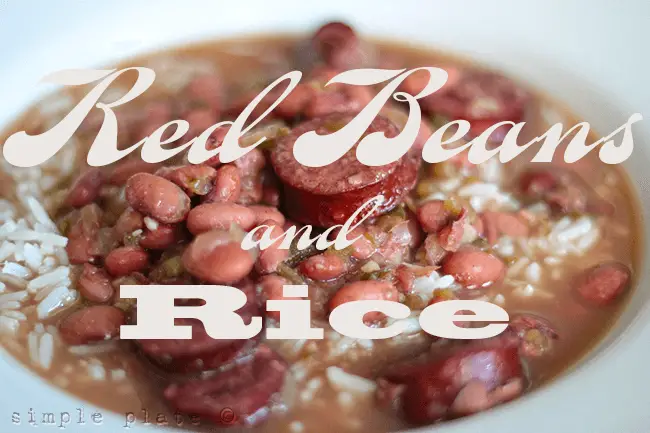 Red Beans and Rice is  one of our favorite recipes when the weather starts to cool. This is one my ' seat of the pants' recipes so feel free to adjust to your own personal tastes. This one is guaranteed to be one of your favorites too.  You won't need to 'guard' the stove as this one takes some time, but I"ll promise the results beat any packaged variety you'll find. Grab a print and let me know how your recipe works out!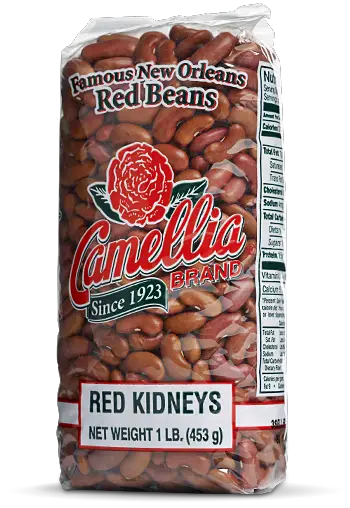 I recommend using only the dried  red beans, not canned, for this recipe. The canned beans would end up as mush because of the cooking time necessary for the other flavors to blend. Its worth  every ounce of effort and really one of those super simple recipes once you have all your ingredients  assembled. The red kidneys that are commonly used for red beans and rice are the smaller red beans, not the same ones you see used for chili and the like. So look for the Camellia Brand or your favorite store brand and if you cannot find either, go ahead and use the larger red beans, won't hurt the flavor at all, we find the smaller beans just seem to cook a bit better.
Prep time:
Cook time:
Total time: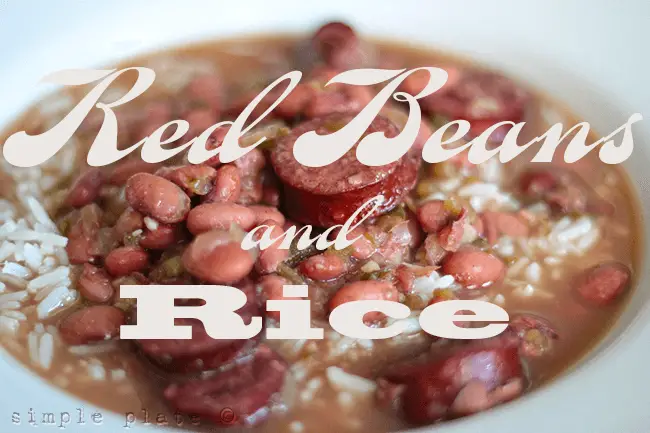 A Family friendly taste of New Orleans. With or without sausage makes a complete meal.
Ingredients
1 cup chopped onions
½ cup chopped bell peppers
½ cup chopped celery
1 teaspoon salt
½ teaspoon cayenne pepper
¼ teaspoon freshly ground black pepper
1 teaspoon dried thyme
3 bay leaves
1 lb smoked sausage, cut crosswise into ¼-inch slices (we use spicy)
1 pound dried red beans, rinsed and sorted through, (soak using preferred method and drain)
3 tablespoons chopped garlic
8 to 10 cups water (enough to cover ingredients in large stock pot)
Steamed rice
Instructions
In a large saucepan over medium-high heat, Saute the onions, bell peppers, celery, salt, cayenne, black pepper and thyme for about 5 minutes.
Add the bay leaves.
Add the beans, garlic, and enough water to cover the contents in the pot. Bring to a boil, reduce the heat to medium, and simmer uncovered, stirring occasionally for about 2 hours.
Add more water if the mixture becomes dry or thick.
Remove about a cup and ½ of the mixture and process in a blender or food processor until creamy, return to pot.
Continue to cook, stirring occasionally, for about 1½ hours, or until the mixture is creamy and the beans are soft.
Meanwhile, in a large skillet brown the cut smoked sausage lightly and add to stock pot with bean mixture.
Again, add more water if it becomes too thick.
The mixture should be soupy but not watery.
Remove the bay leaves and serve over steamed white rice.
Notes
Brown or white rice work equally well.
Spicy smoked sausage, or regular can be substituted.or use the authentic andouille sausages.