Disclosure: This post may contain affiliate links. I receive a small commission at no cost to you when you make a purchase using my links.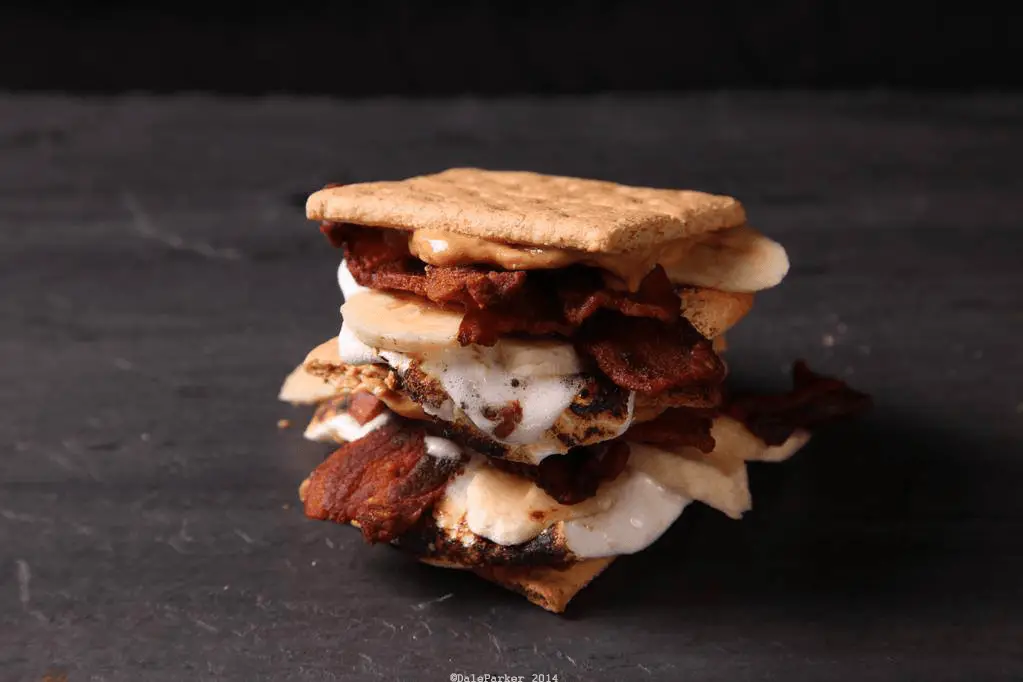 Homemade S'mores Presley
My cousin Dale recently catered an event where his clients were HUGE Elvis Presley fans, and ever the BOSS, Dale chose to make the dessert for that party a throwback to Elvis. And OMG I might have died a little when I saw this delicousness on facebook! Of course after I asked him for his assembly directions and permission to use his image, I set to work to copy cat and make these. I was NOT disappointed!  I used some of the homemade marshmallows I had made a couple weeks back and well, all I can tell you is you have GOT to try these!
Print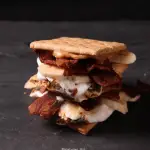 S'mores Presley
---
Author:

Total Time:

6 minutes

Yield:

1

2

1

x
Description
Adapted from an original by Dale Parker
---
12

whole graham cracker cookies

12

squares Ghiradelli Intense Dark Bar Twilight Delight 72% Cacao

2

bananas sliced on the bias

12

large marshmallows

12

slices thick sliced hickory smoked bacon (we used Wright's brand)
All natural smooth peanut butter
---
Instructions
Lay out your layers of halved graham crackers on a parchment lined cookie sheet
Generously spread a layer of peanut butter on to each
Place a marshmallow on each and broil for a few seconds until toasty. (watch closely you don't want burned marshmallows)
remove from oven and working quickly stack your remaining ingredients on each beginning with the chocolate squares, then banana, then bacon.
Spread a dollop of peanut butter on each of the remaining graham cracker tops and place onto the broiled, layered bottoms.
Notes
You can use a culinary torch to toast the marshmallows quickly.
Prep Time:

5 minutes

Cook Time:

1 minute

Category:

Dessert

Cuisine:

Southern
I located this recipe in a box of old southern recipes salvaged at an estate sale. This is but one of the treasures I found! I have used both sorghum and cane syrup to make these. They aren't your mama's stay puf marshmallows! I've adapted the recipe a bit for the modern kitchen, you'll love these!  A candy thermometer is very necessary and remember like meringue, don't make these on a wet, humid day!
Print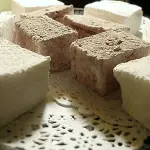 Southern Marshmallows
---
Description
Nothing like you've ever tried before, fluffy, delicious and not a drop of corn syrup.
---
3

envelopes unflavored gelatin

1/2 cup

cold water

1 1/2 cups

granulated sugar

1 1/4 cups

sorghum syrup

1/4 teaspoon

kosher salt

1/2 cup

water

1/4 cup

cornstarch

1/4 cup

powdered sugar
---
Instructions
Sprinkle gelatin over 1/2 cup cold water in bowl of a heavy-duty electric stand mixer.
Stir together granulated sugar, next 2 ingredients, and 1/2 cup water in a 4 1/2-qt. saucepan over medium-high heat; cover and cook 3 minutes, bringing to a boil.
Uncover and boil, stirring often, until syrup thickens and a candy thermometer registers 240° (about 8 to 12 minutes; lower heat as necessary to prevent mixture from boiling over).
Gradually add hot sugar mixture to gelatin mixture, beating mixture at low speed, using whisk attachment, 30 seconds or until blended. Increase speed to high (cover bowl with a towel to prevent splattering); beat 10 to 12 minutes or until mixture cools to room temperature and is thick but still pourable.
Whisk together cornstarch and powdered sugar.
Dust a buttered 13- x 9-inch baking dish with 1 Tbsp. cornstarch mixture.
Pour marshmallow mixture into prepared dish; smooth with a lightly greased spatula.
Dust with 1/2 Tbsp. cornstarch mixture.
Cover remaining cornstarch mixture tightly, and reserve.
Let marshmallow mixture stand, uncovered, in a cool, dry place 8 to 14 hours or until dry enough to release from baking dish and no longer sticky.
Invert marshmallow slab onto cutting board; cut into squares (about 1 inch each). Toss squares in reserved powdered sugar mixture to coat.
Store marshmallows in an airtight container at room temperature up to 2 weeks.
Notes
Brush or rub a 1-inch border of 1 tsp. vegetable oil around the top of saucepan to prevent sugar from boiling to the top.
When beating, resist the urge to clean the sides of the bowl and beater.
Category:

Dessert

Cuisine:

Southern