Disclosure: This post may contain affiliate links. I receive a small commission at no cost to you when you make a purchase using my links.
Fra Diavolo (Italian for "Brother Devil") is the name given to a spicy sauce for pasta or seafood. We like a little heat with our food .We love garlic. We love seafood. And butter? Its all I'll use. This is a go to recipe for me, and frankly one I've used and embellished over the years. Nothing is perfect the first time yanno. So adjust the flavors to your family's liking. You can leave out or reduce the red pepper flakes if you're serving the family and the kids don't like a spicy sauce, but honestly.. there's not a whole lot of hot in this!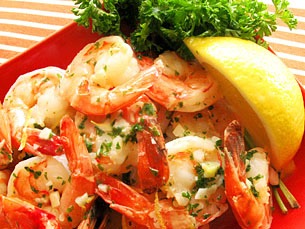 Print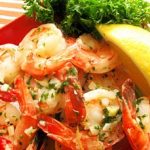 Shrimp Scampi Fra Diavolo
---
3/4

lb linguine or regular pasta

1

white onion peeled and finely sliced

1

green bellpepper finely sliced

1

red bellpepper finely sliced

7

cloves garlic (chopped and peeled)

2 tablespoon

extra-virgin olive oil

4 tablespoons

fresh creamed butter melted

2

pounds extra-large or jumbo shrimp (peeled and deveined)

4

sprigs fresh thyme

2 1/2 teaspoons

kosher salt

2 cups

dry white wine

2 tablespoons

freshly squeezed lemon juice

6 tablespoons

unsalted butter

1/2 cup

chopped fresh Italian parsley
scant

2 tablespoons

red pepper flakes (optional)

3

lemons sliced to wedges for garnish
---
Instructions
In a large zip lock bag combine 1/2 of the melted butter, shrimp, 1/2 of the garlic, thyme , and white wine. Seal and toss lightly so that the shrimp are completely covered. Place in refrigerator while you continue.
Prepare pasta: In a large pot of boiling salted water, add 1 tablespoon of salt and the linguine, and cook for 7 to 10 minutes, or according to the directions on the package.
Some cooks recommend using a bit of oil in the water to keep the pasta separated. DO NOT DO THIS, YOUR SAUCE WON'T STICK TO THE NOODLES. The salt is all it takes to keep the pasta separate. Once cooked, remove from heat,drain off all but a small amount of the cooking water and set aside.
Pour the remaining 1/2 of the melted butter and olive oil into a large skillet over medium high heat. Add in 1/2 of the garlic and let it begin to sizzle (watch closely, it burns quickly) add in onions and bell peppers and sweat down til slightly soft. (we like a little crunch still in our bell peppers) Remove to a covered bowl or plate.
Pour remaining 1 tablespoon olive oil into the large skillet over medium-high heat then add half of the shrimp and all of the thyme.(save off the marinade for the last step) Season with 1/2 teaspoon salt and cook until the shrimp are seared but not fully cooked, 1 to 2 minutes. Remove to a plate and repeat with the remaining shrimp and another 1/2 teaspoon salt. Remove the shrimp and thyme from the skillet to the plate.
Add the remaining marinade to the same skillet set over medium heat. Cook, stirring constantly, until the sauce has reduced and begins to slightly stick to the bottom of the skillet, 2 to 3 minutes. Return the thyme to the skillet and pour in lemon juice, the remaining 1 1/2 teaspoons salt, 2 scant tbsp red pepper flakes (optional) and 1 cup water. Bring the sauce to a rapid boil and cook whisking constantly until reduced by half, 4 to 5 minutes
When the sauce has reduced, return the shrimp, peppers and onions to the pan. Cook and toss until the shrimp are coated with the sauce and just cooked through, 2 to 3 minutes.
Stir in the parsley.
Serve immediately lightly tossed over linguine or pasta.