Disclosure: This post may contain affiliate links. I receive a small commission at no cost to you when you make a purchase using my links.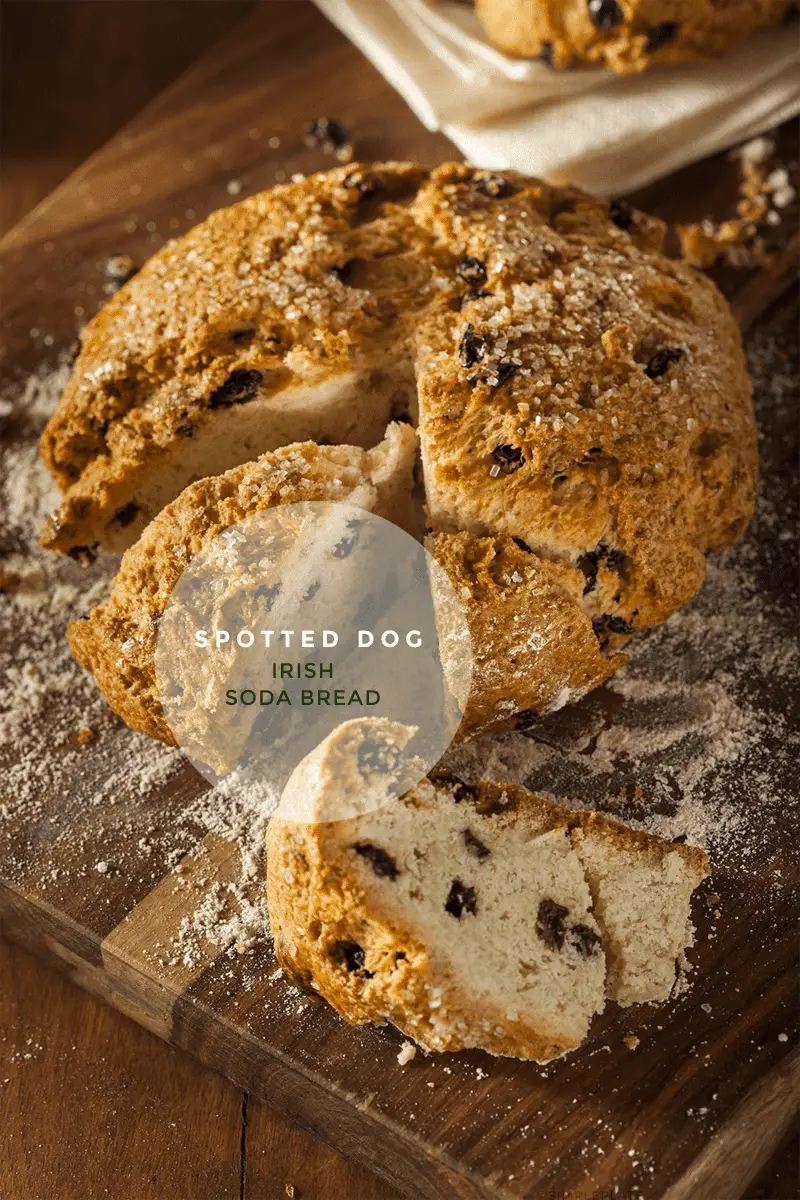 This Spotted Dog Irish Soda bread is not the purist's version of the Irish Soda Bread that I first learned to bake as a youngster, but delicious none the less. I helped out at the parish Rectory and Church sanctuary on Saturdays and Ms. Betty Craney who was the parish housekeeper taught me how to make the bread she made for the Priests there. She was from Ireland, with a heavy brogue but a lovely woman who kept the rectory spotless, the Priests well fed and was a dear friend to many. Her recipe was a  genuine Irish soda bread is a basic roll with a perfectly caramelized, rough outside layer and a decent bite, best consumed generously spread with salty Irish butter.
Soda bread has been an Irish family staple since baking soda got to be monetarily accessible in the mid nineteenth century. It utilizes just a couple of fixings that the vast majority of people had on hand—flour, salt, baking soda, and buttermilk from the " sour or harsh milk container" each house had before the arrival of refrigeration. It additionally didn't have to be baked; it could be heated in a bastible, a sort of cast-iron Dutch stove, suspended over an open fire. Hot coals were put on the cover so the warmth originated from both the top and underneath. Anyway, now that we have ovens and refrigeration, this bread has gotten so easy to make that you, as well, may end up baking an Irish Soda Bread regularly. There's even a Society for the Preservation of Irish Soda Bread! More authentic recipes and a history of soda bread can be found on their site.
Later in life, I came upon this recipe, slightly sweet but not really a tea cake and loved the variation on the basic bread. Be certain to mark the bread with a cross before baking. This opens the crust so the heat can penetrate the center of the loaf. Irish folklore says that this is also done to let the fairies out.
If you want a more crisp bottom of the loaf turn the loaf over for the last 4-5 minutes of baking.
Print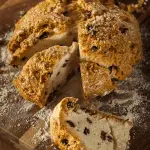 Irish Spotted Dog Soda Bread
---
3

2 ?3 cup all-purpose flour (plus extra for dusting)

1 tsp

baking soda (bicarbonate of soda)

1 tsp

salt

1 Tbsp

superfine sugar

2

?3 cup golden raisins or dried currants

1

egg

1

2 ?3 cup buttermilk
---
Instructions
Preheat the oven to 425°F
Lightly dust a baking sheet with flour.
Sift the flour, baking soda, and salt into a large bowl.
Stir in the sugar and dried fruit.
In a separate bowl, beat together the egg and buttermilk.
Make a well in the center of the dry ingredients and pour in most of the buttermilk mixture (leave about a quarter cup to mix in as you go along)
Using one hand, bring the flour and liquid together moving your hand in circles around the bowl, adding a little more of the buttermilk mixture, if necessary.
Don't knead the mixture or it will become too heavy. (The dough should be soft, but not too wet and sticky.)
Once it comes together, turn onto a floured work surface and bring together a little more.
Pat the dough into a round, about 2½ inches in height, and cut a deep cross in it, from one side of the loaf to the other.
Transfer to the prepared baking sheet.
Bake for 10 minutes, then decrease the oven temperature to 400°F and bake for another 30 to 35 minutes, until the bread is golden and sounds hollow when tapped on the bottom.
Cool on a baking rack. Serve warm or at room temperature.
Notes
Handle the dough as if it were flaming hot. The less handled the better your results will be.
Category:

Bread

Cuisine:

Irish
Have you ever made traditional Irish Soda Bread or Spotted Dog Bread? Which is your favorite?