Disclosure: This post may contain affiliate links. I receive a small commission at no cost to you when you make a purchase using my links.
Southern Women have always been admired for their ingenuity and frugal ways. Just about this time each year when I was growing up, I spent a few months with my grand parents. They were truck farmers (they took their home grown veggies and fresh laid chicken eggs to the farmers market every day) Tomatoes were filling the vines, weighing down the plants, and fried green tomatoes were a compliment to almost every meal. But, granny had a special way with dessert, and here's a wonderful "pound" cake with a unique ingredient. You'll love it!
You'll need a large bunt type or tube pan for this recipe. You probably will have some left over batter, so have a couple of small loaf pans ready just in case. Be sure to butter and flour your pans well. Also, this recipe calls for REAL butter. I've not tried it with margarine or any substitutes. Go ahead and splurge. Its worth it!
Print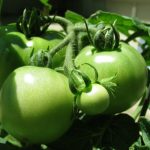 Green Tomato Pound Cake
---
1 cup

butter (

2

sticks, softened)

2 ½ cups

sugar

3

large eggs

3 cups

all-purpose flour

1 ¼ tsp

ground cinnamon

1 tsp

baking powder

1 tsp

salt

½ tsp

ground nutmeg

1 ½ cups

diced green tomatoes

1 cup

golden raisins (soak until plump)

1 cup

chopped walnuts
---
Instructions
Preheat oven to 350 degrees.
Grease and flour a 12 cup bundt pan.
Beat butter and sugar with an electric mixer until creamy.
Add eggs, one at a time, beating well after each addition.
In a medium bowl, combine flour, cinnamon, baking powder, salt and nutmeg.
Gradually add to butter mixture, beating well (batter will be soft).
Stir in tomatoes, raisins and walnuts.
Spoon batter into prepared pan.
Bake for 70 to 75 minutes or until a tester inserted in center comes out clean.
Let cool in pan on wire rack for 10 minutes.
Remove from pan and let cool completely.
Spoon Browned Butter icing over cake .
Notes
Browned Butter Icing:
In a medium saucepan over low heat melt ½ cup (1 stick) butter.
Cook 6 to 8 minutes or until butter is lightly browned.
Whisk in 1 cup confectioners' sugar until smooth.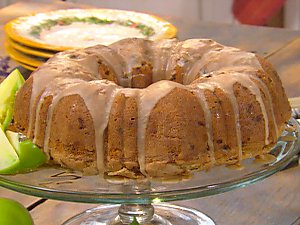 Somebody told me Paula Deen loves this recipe and has used it on her Food Network program. Well, she's a  good southern woman, so I imagine it was handed down to her just as it was to me.