Flank or Skirt Steak marinated just right with a mouthwatering kick.  Even Paula Deen would be envious of how wonderful these taste!
Carne Asada Marinade
[print_link]
Summary: Traditional With A Southern Kick
Ingredients
1/4 cup olive oil
1/2 cup red wine vinegar
2 limes squeezed
2 oranges squeezed
2 tablespoons fresh garlic crushed
1 small texas sweet yellow onion
1 tablespoon pepper
salt to taste
1 tablespoon ground cumin
1 tablespoon chili powder
1 tablespoon oregano
small bunch cilantro chopped (no stems)
2 small jalapenos chopped
2 or 3 splashes Tabasco® Brand Green sauce
1 7oz can Herdez® Brand Salsa Casera
Instructions
Squeeze citrus and remove meat from peels
Combine the juice and citrus meats with remaining ingredients in blender
Process on high for 1 to 2 minutes
Use as marinade for skirt or flank steak
Variations
We like the spicier kick of Herdez© Casera Hot, but you can use any of their casera varieties. I recommend only Herdez brand for Authentic taste.
Preparation time: 15 minute(s)
Copyright © Simple Plate 2004-2011.
This makes  enough marinade for several flank steaks reserve off enough for the quantity of steak you are cooking and refrigerate the remaining.
Pour this marinade on top of  room temperature skirt or flank steak  in a covered container or zip-loc bag for at least 1 hour. (longer is better as it allows the flavors to truly shine through. I generally marinate for at least 4 hours)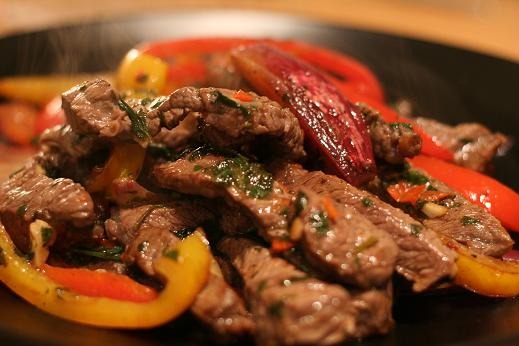 Fajitas
Ingredients
2 pounds skirt or flank steak (marinated in above recipe)
1 medium onion, halved and sliced lengthwise
1 green bell pepper, sliced
1 red bell pepper, sliced
1 yellow bell pepper, sliced
8 (8-inch) flour tortillas
1 lime, juiced
1 tablespoon olive oil
Sour cream, for topping
Herdez® Salsa Verde , for topping
Guacamole, for topping
Pico de  gallo, for topping
Cheddar cheese, shredded, for topping
Additional Limes for finish
Instructions
Wrap tortillas loosely in foil
Toss sliced onion and bellpeppers with olive oil and juice of 1 lime.
Preheat a ridged cast iron grill pan on high heat.
Remove steak from marinade
Discard marinade
Lightly oil grill pan (do not use spray)
Grill the steak over medium-high heat
Cook for 4 minutes on each side
Transfer to a cutting board and let rest
Place wrapped tortillas in 350 degree oven
Add onions and bell peppers to grill pan
Cook until tender crisp (7-8 minutes)
Remove tortillas from oven and place in tortilla warmer.
Thinly slice steak against grain
Assemble with Sour Cream, Salsa Verde, Pico degallo, Guacamole and Cheese
Lightly spritz with lime juice
Quick notes
If you want your fajitas to sizzle to the table. Heat lightly oiled flat skillets in 400 degree oven, for about 4 minutes. You can do this as you assemble the condiments to bring to the table. When you are ready to serve, remove the cast iron servers from the oven and quickly arrange the meat and peppers and onions on it. It will immediately start to sizzle from their fat and moisture. Top with a spritz of lime juice and you'll have those 'restaurant' sizzling fajitas at your own table.
Preparation time: 20 minute(s)
Cooking time: 12 minute(s)
Number of servings (yield): 4
Culinary tradition: USA (Southwestern)
Copyright © Simple Plate 2004-2011.
Cook's note:
I ONLY make my tortillas from scratch now (thanks Lori) Here's a great video  and recipe on how to make em! EZPZ too!   And Casera and Salsa Verde are from Herdez® the ONLY brand I'll ever use.. These little tweaks make these fajitas  extra delicious!