Disclosure: This post may contain affiliate links. I receive a small commission at no cost to you when you make a purchase using my links.
Could be! You tell me!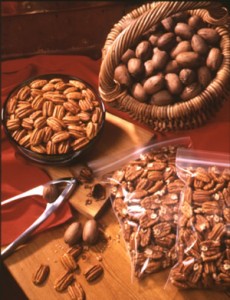 Anybody who knows me well, knows that I do some pretty weird stuff when I get antsy. (That's southern for nervous)  And this weekend I'm really antsy about that storm in TX. One of those weird things I do is eat. A lot. Anything not nailed down. I'm trying to get that under control. So instead of eating all these gorgeous pecans right now, I'm going to give you a few fall recipes I hope you'll enjoy. Pecans are extra delicious snacking when toasted in the oven. They freeze well for later use and well I think they're just yummy what ever you do with em !


So here you have it, the best of my Fall snacks and sweets!
Toasted Salted Pecans
1 pound of halves
2 Tablespoons oil
2 Tablespoons butter
Salt to taste
Melt oil and butter together on a cookie sheet in a 250 degree oven.  Mix in the pecans and salt.  Bake for 1 hour stirring every 15 minutes.  These are wonderful!! (store in zip loc type bags or tightly covered)
Pecan Pralines (The Creamiest Ones Evah!)

1 cup light brown sugar
1/2 cup granulated sugar
1/2 cup heavy cream
4 tablespoons unsalted butter
2 tablespoons water
1 cup pecan halves
In a heavy-bottomed saucepan, combine the light brown sugar, granulated sugar, heavy cream, butter, and water. Place over a medium-high heat and stir constantly until the pralines reach the softball stage, 238 to 240 degrees F. Add the pecans to the candy, and pull the pan off of the stove. Continue to stir the candy vigorously with a wooden spoon until the candy cools, and the pecans remain suspended in the candy, about 2 minutes. Spoon the pralines out onto a parchment or aluminum foil lined sheet pan and cool completely before serving.
Pecan Pie (My Formerly Secret Recipe)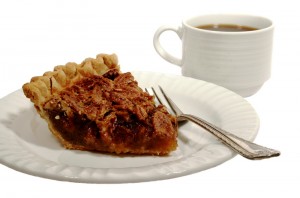 Topping:

3 eggs

1/4 cup sugar

1 cup light corn syrup

1 teaspoon vanilla extract
Pie:
1 (8-ounce) package cream cheese, room temperature
1/3 cup sugar
1/4 teaspoon salt
1 teaspoon vanilla extract
1 egg
1 un-baked deep-dish (9-inch) pie shell
1 1/4 cups chopped pecans
Directions:
Preheat oven to 350 degrees F.
Combine all topping ingredients in a medium bowl. Set aside.
In a medium bowl, mix cream cheese, sugar, salt, vanilla, and egg until combined. Pour into pie shell. Top with chopped pecans. Pour topping over pecans. Bake for 45 minutes. Serve warm or at room temperature.
Pecan Tassies (Mini Pecan Pies Too Good For The Kids) Printable Recipe and Details are in the recipe section for this one!

So now you know just how nutty I am! (Pun intended)