Disclosure: This post may contain affiliate links. I receive a small commission at no cost to you when you make a purchase using my links.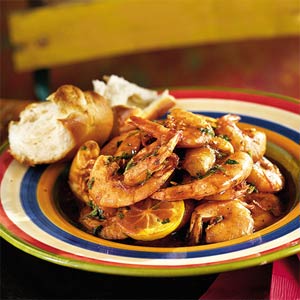 Well, its almost Friday, looking forward to the weekend, and heck the 4th of July is just around the corner. I thought I'd share my fabulous BarBQ Shrimp recipe with you all. Bring this to the table at your next outdoor gathering, and you'll be the star of the party!
Now, gentle readers, when I say Barbecue Shrimp, I am not talking about helpless crustacean, slathered in bottled barbecue sauce, then some how thrown on a grill. Nope, contrary to what that lovely, though somewhat uppity and expensive restaurant in Pawleys Island, SC says, that just ain't how ya do it.
One of my signature dishes , this fabulous shrimp rendition most likely originated at Pascale's Manale restaurant, a funky neighborhood Creole Italian joint located on Napoleon Ave. just down the street from my Uncle Phil and Aunt Anna, in Uptown New Oleans and has been a local favorite for as long as anyone can remember. The name is a bit misleading because the shrimp are not grilled or barbecued but actually baked in a spicy butter and olive oil sauce in the shell. There are a number of variations including one by Emeril in which he removes the shells before cooking and used them in a stock as part of his sauce, but I find that his version, while good, requires way too much in the way of time and preparation. At home much to the surprise of some of our guests, I cook mine like Manale's, in the shell. The shrimp are baked in the shell for a reason. The shells contain the essence of the shrimp taste and they flavor the sauce during the baking process. Without the shells the sauce would be tasteless. We normally split the shells down the back using scissors to make the shrimp easier to peel after cooking. (A little bit of time that your guests will thank you for)
The process of eating BBQ shrimp is every bit as important as the way they are cooked. Here is how we do it New Orleans style. First of all, USE YOUR HANDS! Forget  the  knife and fork; this is a messy process, it brings out the kid in everyone and don't forget to have plenty of napkins or paper towels and handi-wipes around for cleanup. That being said, here is how it's done.
DO NOT TRY TO EAT THEM UNTIL THEY HAVE COOLED. When you feel that you can eat them without burning your lips, take one of them by the tail, dredge it through the sauce, and suck the sauce that clings to the shell. Then, peel the shrimp, and repeat the same process, dredging the peeled shrimp through the herbs and spices that have collected on the bottom of the dish. Then you eat it, all the while savoring all of the wonderful flavors that have combined to make this very special dish. A very important part of this process consists of dipping pieces of French bread periodically to soak up the sauce. Remember SPE, suck, peel, and eat. Easy'nuf and shonuff good!
So, here, with apologies to the original chef (for my slightly changed recipe) is how ya cook 'em.
Print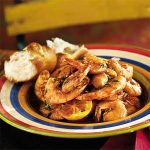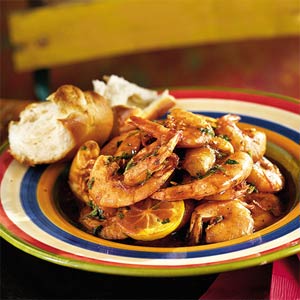 This Ain't Your Mamma's BarBQ
---
4

pounds unpeeled (large fresh shrimp or

6

pounds shrimp with heads on)

1/2 cup

butter

1/2 cup

olive oil

1/4 cup

chili sauce

1/4 cup

Worcestershire sauce

2

lemons (sliced)

4

garlic cloves (chopped)

2 tablespoons

Creole seasoning

2 tablespoons

lemon juice

1 tablespoon

chopped parsley

1 teaspoon

paprika

1 teaspoon

oregano

1 teaspoon

ground red pepper

1/2 teaspoon

hot sauce

1

or 2 Bottles Abita Amber Beer* (Emeril uses white wine, but thats way too high-brow for me)
French bread (use the baquettes not french rolls for this one heated)
---
Instructions
Spread shrimp in a shallow, aluminum foil-lined pan.
Combine butter and next 12 ingredients in a saucepan over low heat, stirring until butter melts, and pour over shrimp.
Cover and chill 2 hours, turning shrimp every 30 minutes.
Turn out into a well seasoned iron skillet and bake, uncovered, at 400° for 20 minutes; turn once.
Serve with the heated french bread, right from the iron skillet.
Now, in the summer, I take this cooking outside and use that iron skillet on the grill. Its not a problem with the skillet because of course it's flame proof.  If you don't have an iron skillet, I reccomend you invest in at least one, use any grill safe utensil that you have or just opt for cooking inside.
Don't worry if you can't find the Abita brand beer (its brewed in Louisiana and great but any amber beer will work.) Don't forget, you're cooking off the alcohol so even those who don't drink will like this dish! If you're concerned, leave it out, but I promise it makes the taste!
Serve this with a side salad of your choice, I reccomend the watermelon salad from yesterday's post and you've got dinner for 6.  Yummy!