Disclosure: This post may contain affiliate links. I receive a small commission at no cost to you when you make a purchase using my links.
There's so much to love about Southern Fried Chicken. But let's face it, even here in the south,today, we put off cooking it to the weekends or simply get takeout. I can't tell you how many times I've opted for takeout instead of pulling out the iron skillet. But after watching a marathon of southern based films, including The Help, I had an overwhelming craving for good home cooked fried chicken. So, I did what any good southern cook would do and proceeded to proceed.
The reward? Hot, crunchy, shatteringly crisp crust, fried to golden-brown perfection. And after a bite through that, some super juicy, moist meat. No dry, tasteless commercial version fried chicken here!  This is the real deal. Authentic Southern Fried Chicken. So its time to get in the kitchen with your chicken, cozy up to your apron and make a mouthwatering meal your family will love!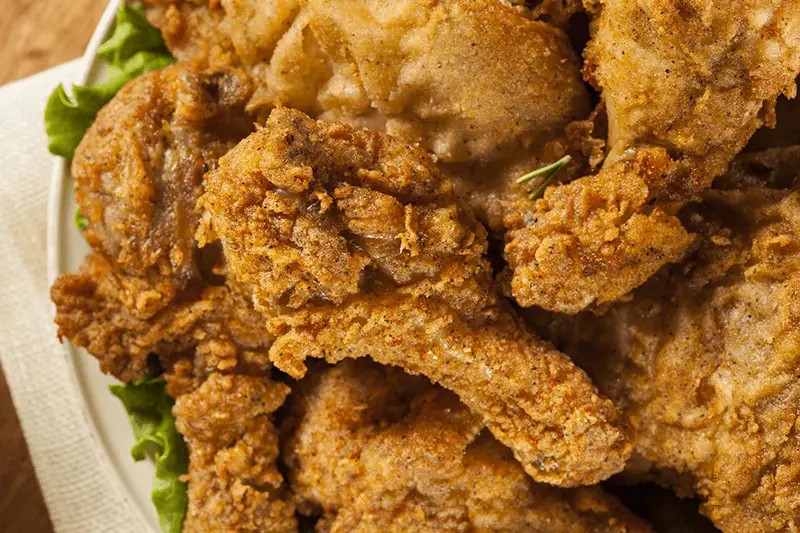 But before I get to my recipe for perfection, lets take a little primer on just HOW NOT to fry chicken. I've perused hundreds   thousands of online recipes, just to see what the trends are. And well, I've been shocked at what I've seen to be 'tips' and 'tricks' for frying chicken.  So let me set the record straight now.
REAL TIPS AND TRICKS FOR AUTHENTIC SOUTHERN FRIED CHICKEN
1.  BRINE  Brine seems to be ALL the rage, for everything from Turkey to Pork.  Stop it, just STOP IT.  You don't need to (or really want to) Brine your chicken. You can, I won't come to your house with the food police, (I'm not that big of a control freak). But who's got time for that overnight process?  Buy good kosher large grain salt. You'll thank me for this later.
2. JUST THE DRUMSTICKS AND THIGHS  You know you can cook the WHOLE chicken don't you?  Yes even though the drumstick and the wings seem to be the icons of the fried chicken world, the absolute best way to cook the breasts is to fry them. Though they pale in comparison, taste wise in other recipes, frying them up  is a little bit of genius you can stash away in your recipe box. Cook the whole chicken. Just be sure you've butchered it properly, separating the  thighs from the legs and wings from the breasts. If the breasts are super large, go ahead and split them (no harm in that) or get your grocer to cut up a chicken for you fresh, he'll cut it up properly, sparing you the job and you'll have nice sized pieces to cook
3. COOK THAT CHICKEN IN THE OVEN  Put away the cornflakes and panko crumbs.  A good all purpose flour is what you need. And DO NOT SKIP THIS.
4. USE COCONUT OR OLIVE OIL OR GRAPESEED OIL   Honey, we're talking about southern fried chicken, not Paleo dining.  My dear grandmother, just turned over  seeing me type Paleo and fried chicken in the same sentence.  Crisco is what you use to fry your chicken.  Not peanut oil, not canola, not vegetable oil. CRISCO (solid).  And before the health food freaks get all over me, its trans fat free now. And by the way you're not eating the stuff out of the can, you're using it as a frying vehicle, drain your chicken well. Crisco is a neutral-tasting oil with a high smoke point. And don't leave things up to the southern god of cooking: Use a thermometer to track and maintain the temperature of the oil—you're looking for a steady  325-350 degrees, keeping the oil at the proper temperature, keeps it OUT of the food.
5. PLACE THAT REFRIGERATED CHICKEN INTO THE FRYING PAN IMMEDIATELY   Not only will your chicken be tasteless, you're gonna have a splatter fest. And well just DON'T DO IT.  Chicken dipped in flour will hang on to that flour much better at room temperature.  And cold chicken into the frying pan, drops the temperature of the oil to such a degree that you end up with a greasy mess, not the crispy crust you were after.
6. I NEED A DEEP FRYER OMG   NO! Put that hard to clean deep fryer, back in the pantry. You need  an iron skillet. A deep one (or two). And if you just refuse to use an iron skillet, try that electric skillet you have been pushing to the back of the cabinet. It has a built in thermostat so you can keep an eye on the heat of the oil and be sure it stays at the right temp. BUT, I'll only ever use my iron skillets to fry chicken. They hold the heat well and anything cooked in them is just a step away from heaven.
7. IT'S BROWN ON THE OUTSIDE, IT MUST BE DONE  No one likes eating raw chicken. You know, when its pink close to the bone and (yuk) bloody?  No, you need to watch the clock and keep an eye on the oil temperature. Invest in a meat thermometer, an oil thermometer and a kitchen timer. If the heat of your oil is too low, you'll end up (again) with greasy chicken (no crispy crust either) and if the heat of your oil is too high you end up with raw chicken. (Brown on the outside, raw on the inside) It takes about 15-18 min per side to cook chicken well but depending on the sizes of your chicken parts, it might take a little more. I always get the thighs into the center of the skillet and surround them by the breasts, wings and legs. Breasts,wings and legs will cook through first. But utilize your meat thermometer, make sure that you've reached an internal temperature of 165°F  in the thickest part of the meat.(Try removing the chicken from the oil just prior to reaching 165°F so you can let the residual heat take it up to 165°F during the resting period)
8. STRAIGHT FROM THE FRYING PAN ON TO THE PLATE Chances are you carried your lunch to school in a brown paper bag (unless of course you carried that enviable Barbie lunch box) and your mother brought home groceries in paper bags. Well those things (the brown bags) are perfect not only for shaking your chicken in flour, but for draining your fried chicken without creating a dump of paper towels. If your local grocer still has paper bags, ask for a few next time you shop, they're happy for you to have them and of course completely disposable after use. Otherwise, use a wire rack, with paper toweling  layered beneath to drain your fried chicken.Take a break after its all cooked, have a glass of wine or a cold beer, and allow the chicken to drain well. Then place into a 200 degree oven on a plate or platter to keep warm until you're ready to serve.  I'm not anti-paper toweling mind you, but putting your chicken directly on to it after frying will cause some steam to hold and your crispy crust, won't be so crispy.
I've debunked the most obvious issues I've read about, I'm sure there are more. And I'm sure you all understand we're not talking about 'health' food when we talk about true Southern Fried Chicken, unless you're talking about the health of your soul. There's just something wonderfully heart warming about the smells of a southern kitchen. Fried Chicken, is the number one on my list!
So, here's how I MAKE AUTHENTIC SOUTHERN FRIED CHICKEN!
Print
AUTHENTIC Southern Fried Chicken
---
Author:

Total Time:

2 hours 51 minutes

Yield:

4

1

x
Description
Super juicy, crispy perfection on a plate.
---
One Whole Fryer Chicken cut up

1

lb All Purpose Flour
Solid Crisco
Kosher Coarse Ground Salt

1 Quart

Whole Buttermilk

2

Brown Paper Bags
Seasoning
Paprika
Garlic Powder
Red Pepper
Black Pepper
Louisiana Hot Sauce
---
Instructions
Wash and cut up chicken.
Wash again and drain well in a colander in the sink.
Meanwhile, pour All Purpose Flour in to large brown paper bag and set aside.
Place washed chicken into a large flat bottomed container with high sides and pour on Kosher Salt , covering pieces well on both sides.
Place into refrigerator for one hour.
Remove chicken and shake off excess salt, place into a large deep bowl or zip lock bag.
Add in seasonings to taste and cover in buttermilk.
Return to refrigerator, covered for one hour.
Remove from refrigerator and pour off all of the buttermilk.
Place chicken on a wire rack (with paper toweling underneath to catch the drips) and allow to come to room temperature.
Meanwhile, add the solid Crisco to your iron skillet and bring to 350 degrees
Drop chicken pieces one at a time into the brown paper bag of flour until all pieces are inside.
Fold over edges and shake. (The chicken is already dead, just shake until the chicken is well coated with flour)
Slowly place the chicken carefully into the hot oil so that it doesn't splatter.
Cook on each side approximately 15-18 minutes, until golden brown and the internal temperature is right at 165 degrees in the thickest area of each piece.
Remove from oil and drain well on brown paper bag.
Place on platter and move to 200 degree oven until ready to serve
Notes
Oil temperature is everything (solid Crisco-end of story).
1) Bring the temperature up slowly versus cranking to high. That way the skillet will get just the right amount of heat and you won't have to drop the temp when it keeps shooting past where you want it. You would think the chicken would help cool the oil but it doesn't. So if you heat it up fast the temp will keep rising and the chicken will cook too fast at first, then too slow.
2) make the depth of the oil between halfway and 3/4ths up the chicken after you have filled the skillet. You want to cook on both sides once instead of all the way in the oil.
3) This is how you get the temp right-assuming you are heating the oil real slow, the temp is right when you see the VERY FIRST wisps, just hints, of smoke. If it is smoking solid, its too hot.
Another trial and error way to tell, the chicken should be bubbling all around the edges, but very little. When you get the right temp it really looks like you are cooking too slow, but you are not! If a regular chicken thigh can't go a full 15 minutes on each side without getting too brown or even burned, you are cooking too fast. If the bubbles aren't coming up all the way around a piece, then you are too slow. Cover the skillet for a couple of minutes to bring the temp up a bit before you turn up the fire, you want to change the temp slowly.
Prep Time:

2 hours 15 minutes

Cook Time:

36 minutes

Category:

Main

Cuisine:

Southern
It takes a while to make this recipe. But I can guarantee its well worth it. And if your chicken doesn't turn out like my pictures, don't worry, you can always keep trying until you get it jusssssssssst right!
My Amazon Picks