Disclosure: This post may contain affiliate links. I receive a small commission at no cost to you when you make a purchase using my links.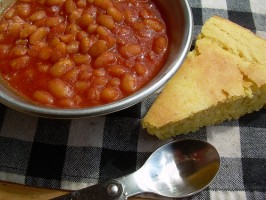 In the south, certain foods, just go together. Like peas and carrots. So when the hunter gatherer came home from a trip to the local Wal-Mart with a prize catch of Spare-ribs, I knew I had to cook baked beans to go with. This simple to follow recipe is one that's been around forever, I think.  But its not only good, its frugal. A one pound  bag of navy beans (which is what's in those cans you buy) is usually around 88 cents. The additional ingredients won't run you much over a couple of bucks if you have to go out and buy anything. Odds on the items are on your shelf or in your larder now!
I add in a few things you might have questions about like baking soda (I never cook dry beans without it) and ginger and cinnamon. Sure you can make these beans without the two spices, but I'll guarantee, once you've tasted the beans with the two you won't ever go back to plain ole beans!

So here we go. Mind you this is a full pound of navy beans, so if your crowd isn't large you can successfully freeze the left overs and serve another time.
Print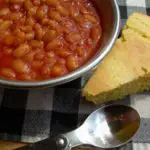 Deb's Home Made Baked Beans Easy
---
1

lb. dry navy beans

1 cup

brown sugar (packed (I use dark brown sugar, but light works if its all you have))
water to cover up to 1″ above beans

4 tsp

. dry mustard

4 tbsp

. molasses

1

small can tomato sauce

2 tablespoons

ketchup (optional)

1 tsp

. salt (or to taste)

1

large onion (diced finely)

1/8

scant tsp ginger

1/8

scant tsp cinnamon

1 tsp

baking soda

1/4

– lb. pork (a boneless pork chops chunked into small pieces works well or I used the trimmings from the ribs Add more if you wish)
Dash- Hot Sauce (I prefer Louisiana Hot Sauce brand (This is optional, especially if you have children that will be eating.))
---
Instructions
Wash and pick over beans, removing any stones, broken beans, etc.
In a saucepan, cover beans with water (about 1 inch above top of beans). Simmer beans for 10 minutes.
Let cool 5 minutes.
Cover and leave to soak overnight.
The next day pour off any remaining water used to soak beans, Transfer to CrockPot
Mix ingredients (except for pork) and stir into beans.
Submerge pork in beans. A slice of hickory smoked bacon can be placed over the top of the beans.
Turn CrockPot on low setting.
Cover and cook for 6 hours, or until beans are tender. If beans start to become dry during cooking, add a small amount of hot water.
When beans are tender, taste and adjust seasonings turn off crock pot and allow sauce to thicken slightly and beans to absorb more of the seasonings.
Slice up bits of the pork to add to each serving.
Category:

Side

Cuisine:

Southern
This really is a two day recipe, don't freak out if when you check your beans they don't look like canned "baked" beans. After they've cooled a bit, they will and get ready to say YUMMMMMMMMMO!
Note: you can make these vegetarian by deleteing the pork and bacon. Still yummo!