Disclosure: This post may contain affiliate links. I receive a small commission at no cost to you when you make a purchase using my links.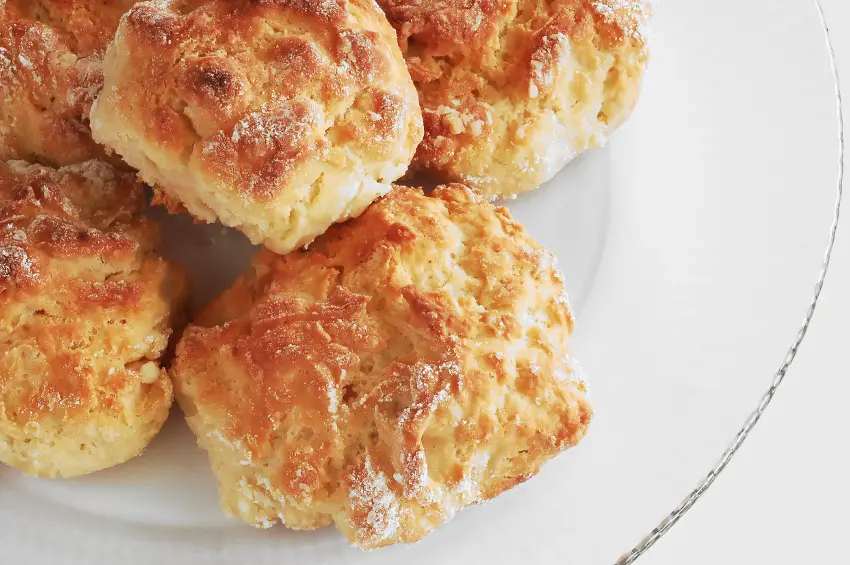 I'm looking forward to the weekend! How about you? Weekends in THIS southern home bring all sorts of great breakfast treats. Sundays bring on the skillet biscuits, gravy, bacon and eggs, and occasionally a side of hashbrowns.  And no, as much as I'd like to say someone else gets the joy of whipping this up, a la Waffle House, it is I who brings on the bacon! I bring home a little too!
We've changed our eating habits significantly (shhhhhh don't tell anyone  here).  Uncured bacon, organic eggs  and veggies have replaced the hormel and standard fare we were used to. But the flavors? They're even more yummy! What has not been replaced are the staples of a southern breakfast.  Biscuits. I have such warm memories of my GrandMa making homemade bread and biscuits. And I've taken her skillet biscuits recipe and updated it for today's cook.
I challenge you to make these super easy, homemade biscuits  and to tell me they're not the BEST you've ever tasted.  I promise you'll not ever reach for the doughboy variety again!  Go Ahead, grab a print and let me know how MUCH you love these!
Print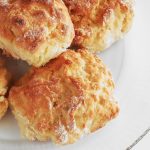 Grandma's Sunday Skillet Biscuits
---
Description
Deep South Biscuit Goodness
---
2 cups

organic white wheat flour

1 teaspoons

organic sugar

1 tablespoon

baking powder

1 teaspoon

sea salt

2 tablespoons

shortening

2 tablespoons

butter (cold)

1 cup

buttermilk (chilled)

3 tablespoons

butter
---
Instructions
In a large mixing bowl, combine flour, baking powder, baking soda, and salt.
Using your fingertips, rub butter and shortening into dry ingredients until mixture looks like crumbs or cornmeal. (The faster the better, you don't want the fats to melt.)
Make a well in the center of the dry ingredients and pour in the chilled buttermilk. Stir with wooden spoon just until the dough comes together. The dough will be Very sticky.
Turn dough onto floured surface, dust top with flour and gently fold dough over on itself 5 or 6 times.
Press with your floured hands into a 1-inch thick round.
Cut out biscuits with a 2-inch cutter, being sure to push straight down through the dough.
Place scrupulously clean iron skillet into oven and preheat to 450 degrees. Once preheated, melt 3 tablespoons butter in skillet
Place biscuits into hot buttered skillet so that they just touch. (use a potholder or mitt to remove skillet from oven its gonna be HOT)
Reform scrap dough, working it as little as possible and continue cutting if necessary.
Bake in oven for 15-20 minutes or until biscuits are golden brown (they'll be kinda high) (watch closely so that the bottoms don't burn!)
Allow biscuits to cool slightly in the skillet then remove with a flat spatula to serving plate or basket.
Notes
I use Bob's Red Mill Organic Unbleached Flour and Domino Organic Sugar both are available at Fresh Markets, Whole Foods and online.
If you need a Gluten Free Biscuit, look at Bobs Red Mill Recipes.