Disclosure: This post may contain affiliate links. I receive a small commission at no cost to you when you make a purchase using my links.
Welcome 'Yall to day three of our party! Read on to enter and don't forget to enter the first two days giveaways here and here.
I love oatmeal. Yep, I said it. Not everyone does, admittedly. For all of my childhood I  equated oatmeal to wallpaper paste. Thick, and gooey and not very tasty unless it was laden with brown sugar and cinnamon or a pat of butter and regular old table sugar. Not too appetizing at the least. But that is what it was. Fast forward to my own kitchen and grocery buying habits.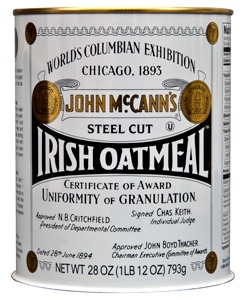 I discovered McCanns Irish Steel Cut Oatmeal. And I loved it!  No more mush, it actually had flavor, minus the traditional condiments! I was elated. One drawback, however, it wasn't a fast breakfast for a growing, working family. We mostly ate it on the weekends when there was time to prepare.  Fast forward again to experimenting with cooking in a crockpot. Got it done and we could have oatmeal mid week if we thought far enough ahead.
One more fast forward to today and  we have Rolled Irish Oats… same flavor, same tooth..much easier to work with! I'm happy as a kid in a candy store!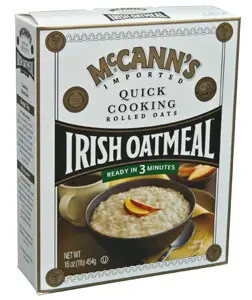 And now I can make my granola with the best, non GMO oats. I'm a happy camper. I want you to be happy too! So here's the recipe for today. Load up your own print of it then read on for today's giveaway!
Print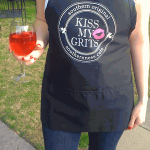 Homemade Granola
---
Description
A Simple Healthy Snack or Hearty Breakfast
---
3 cups

rolled oats

1 cup

whole roasted almonds

1 cup

pecans

3/4 cup

shredded fresh coconut

1/4 cup

plus 2 tablespoons dark brown sugar

1/4 cup

plus 2 tablespoons Tupelo honey

1/4 cup

vegetable oil

3/4 teaspoon

salt

1 cup

raisins

1 cup

dried cranberries
---
Instructions
Preheat oven to 250 degrees F.
In a large bowl, combine the oats, nuts, coconut, and brown sugar.
In a separate bowl, combine honey, oil, and salt. Combine both mixtures and pour onto 2 sheet pans. Cook for 1 hour and 15 minutes, stirring every 15 minutes to achieve an even color.
Remove from oven and transfer into a large bowl. Add raisins and mix until evenly distributed.
Notes
Substitute slivered almonds, cashews or any nut you like for the nuts in this recipe. Dark Raisins or Yellow Raisins work equally well. Add in or takeaway ingredients according to your family's tastes.
Today, while I'm celebrating my  Southern Roots, I want to introduce you all to a friend,  another small business owner, cohort, and the definition of "Southernness" Ben South. We met almost 14 years ago, after he'd developed his line of Southernness products, which I believe sprang from the research he did on defining Southernness. Ben South, was the first person to fully define the distinctiveness of the American South with his trademarked "Seven Signs of Southernness" which he drafted after leading a $2.3 million study of "The South in the 21st Century." I fell in love with Ben back then (and his 7 signs) and I've shopped his items for gifts ever since.
Today, one lucky commenter will win this  kitchen apron from Ben South's Southernness Collection: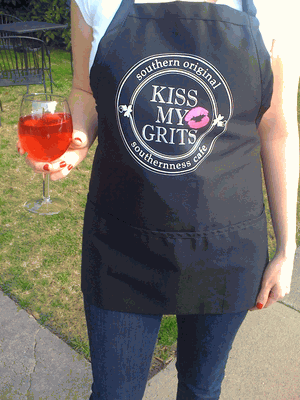 One of but many products in Ben's store that adequately express the sassiness of THIS southern bell!  'Yall should click over to his online shoppe and check out his new candle fragrance "Hissy Fit" and get the story behind all his delightful  "Southernness"! You can find him irreverently posting on Facebook (not for the faint of heart or those lacking a   funny bone) and look for his products in your local specialty stores .
So here are the Rules. Yes we have to have rules, 'yall! [donotprint]
1. Leave A Comment On This Post telling me about your 'inner Southern Belle' and why she would love to have this darling apron.
2. See #1
Of course I'd love it if 'yall would pin this post and folllow me there. And I'd love it even more if you'd tweet and facebook this post and follow me there too! But those aren't mandatory. And don't forget to enter the first two days giveaways here and here. Oh and there are some great recipes on those pages too!
This contest will end on April 17, 2012 at midnight and I'll draw a random comment number and announce the winner on April 18th. Good luck 'yall!  CONTEST CLOSED
 disclaimer: I have a non-material relationship with the company (Southernness). Lawdy knows he'd have a hissy fit if he heard elsewise.  'Yall just go visit his store