Disclosure: This post may contain affiliate links. I receive a small commission at no cost to you when you make a purchase using my links.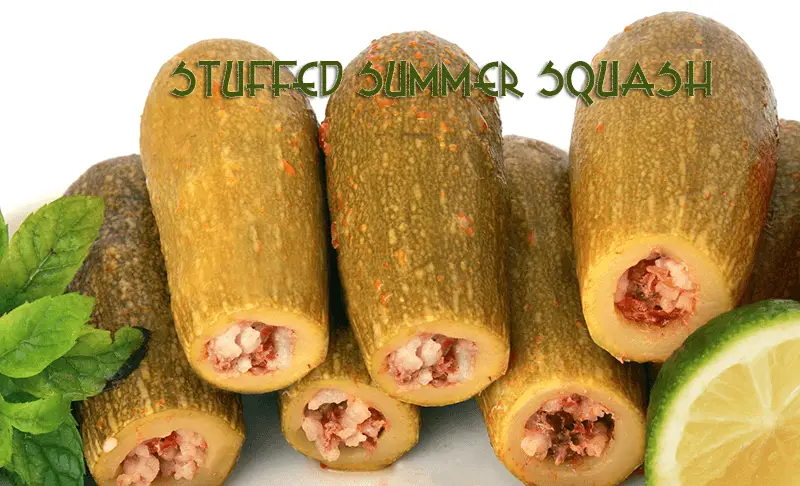 This Lebanese Style Stuffed Squash recipe brings back so many happy childhood memories. I loved  squash as a child. And during the summers we used to get a lot of it. My grandfather and my daddy grew it in their gardens, along with corn, okra tomatoes, and string beans. I loved it all! I'd cry when it was my turn to pick the okra (like a million tiny stickers in your hands and arms), but I never got enough of the fresh vegetables.
Our neighbors during those days were a lovely couple, the Nobels. Mrs. Nobel was such a dear woman, and quite the baker and Mr. Nobel was the tinkerer. He had a garden, mostly full of sunflowers and we got lots of dried sunflower seeds from them and he had the metal frame of an old jalopy in that same garden (I was never sure why) that we'd play on and pretend to drive. Such fun days.
They were older when we lived in that house next door and decided to move to Dallas to be nearer to their children, I think I cried for a week after they moved.   I did not know that they'd sold the house to  a family with children. And within a couple of weeks, we had new playmates. Well, the boys had new playmates. They had two sons.
Our new neighbors were of  Lebanese descent, adding a new flavor to our eclectic neighborhood. And though we often couldn't understand them, they couldn't understand us either, so lots of smiles and hand signals were  shared. Miss Angell was quite the cook and she and mama hit it off. She taught mama to make stuffed squash, stuffed grape leaves, stuffed cabbage, Kibbeh Nayeh, and Tabouleh. Plus a few delicious sweet treats, that I've copied along the way. Oh the layers of rich flaky pastry, nuts and honey. I'm drooling  just thinking about them. Mama taught her a few Italian recipes.  Some how food always overcomes language barriers and we thought we'd struck it rich when the Stuffed Squash and grape leaves hit the table and when we eventually moved from that house I missed our dear neighbors. Not just for the food mind ya, but because of the friendships we had formed and the vast wealth of knowledge of an area of the world I'd had no clue until that time even existed anymore. (My God-mother was of Lebanese descent, but her family seemed to have been in the states for many years and not much was talked about the 'old' country with her.)
Kousa Mahshi has been handed down by generations of Lebanese families. The recipe here is my version of this classic dish. Traditionally, the recipe uses Kousa, which is a Lebanese squash similar to zucchini and though I remember Miss Angell using yellow squash, I've made it with zucchini as well. I wish I could get my 'family' to love this dish as much as I do. Its incredibly delicous.
The mahshi (or mihshi… or filling) for this recipe is about the same as it is for the Lebanese Grape Leaves, here I use ground lamb, but you can use lean ground beef if you'd prefer. I'd encourage you to try the lamb, however, the flavor is incredibly mild.
Tuck this recipe back in your files for the summer when you have lots of squash from your garden and aren't quite sure what to do with it and give it a try.  You'll love it as much as I do, guaranteed!
Print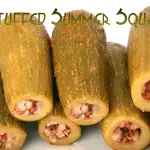 Lebanese Style Stuffed Squash
---
Author:

Total Time:

1 hour 20 minutes

Yield:

4

1

x
Description
Adapted from a family recipe by Angell Shunnarah
---
12

small tender zucchini squash or baby yellow squash

1/2

pound ground lamb or 93/7% lean ground beef

1 cup

white rice (raw)

1/2

bunch parsley chopped

1

medium tomato (dice small)

1 tablespoon

allspice

1/2 teaspoon

ground cinnamon
Salt to taste
Black Pepper to taste
Sauce
1

can tomato sauce

1 cup

water

3/4

can crushed tomatoes
Minced Garlic to taste
Salt to taste

1 teaspoon

dried mint
---
Instructions
Wash and cut the stems off the squash (cut the necks off yellow squash and set aside)
Dig out the insides of the squash very carefully trying not to cut the squash while doing so (a long teaspoon works well)
In a bowl combine the meat,rice,parsley,tomato,oil,cinnamon and allspice, salt and pepper.
Mix very well
Stuff the squashes with the meat/rice mixture until they are about full. Leave some room for the rice to expand but not too much room.
In a pot add the tomato sauce,crushed tomatoes,garlic,salt,and mint
Add the stuffed squash to pot,making sure the sauce is covering the squash, add in the necks of the yellow squash if you used that variety.
Bring sauce to a boil
Turn to Medium heat and let boil and cook for an hour
Prep Time:

20 minutes

Cook Time:

1 hour

Category:

Main

Cuisine:

Middle Eastern