Disclosure: This post may contain affiliate links. I receive a small commission at no cost to you when you make a purchase using my links.
We Want To KNOW if its GMO~Why do we need mandatory GMO labeling?
I don't know about you, but I read the labels on almost all of the food I buy for my family. I'm looking to see if it contains gluten, if it has too much sugar, and whether there are ingredients in it that I can't pronounce. Labeling food packages to show their ingredients, serving size, and nutritional data is not a new thing. Over 60 countries around the world already label their foods to signify if they are made from Genetically Modified Organisms (GMO). The United States should be among the leaders in this change, not a follower.
At first, I wondered why it really mattered. I had heard that we needed GMO crops in order to feed the world's population and without them we would starve. Sadly, I realized that this was just some amazing marketing by companies like PepsiCo, the parent company of Quaker, to keep people in the dark. Growing organically means that you grow without synthetic fertilizers or herbicides. GMO crops can be from seeds created in a lab as well instead of out in nature. As consumers, we have a right to know how our food was grown and how it was made. Why keep this a secret? Just so you know, we indeed can feed the world with crops grown organically – we have been doing it for centuries already!
When food packaging says that it is Naturals or Organic, that doesn't necessarily mean that it is always GMO free… which is why we're after Mandatory GMO Labeling. Just let us know where our food comes from, that's all we want.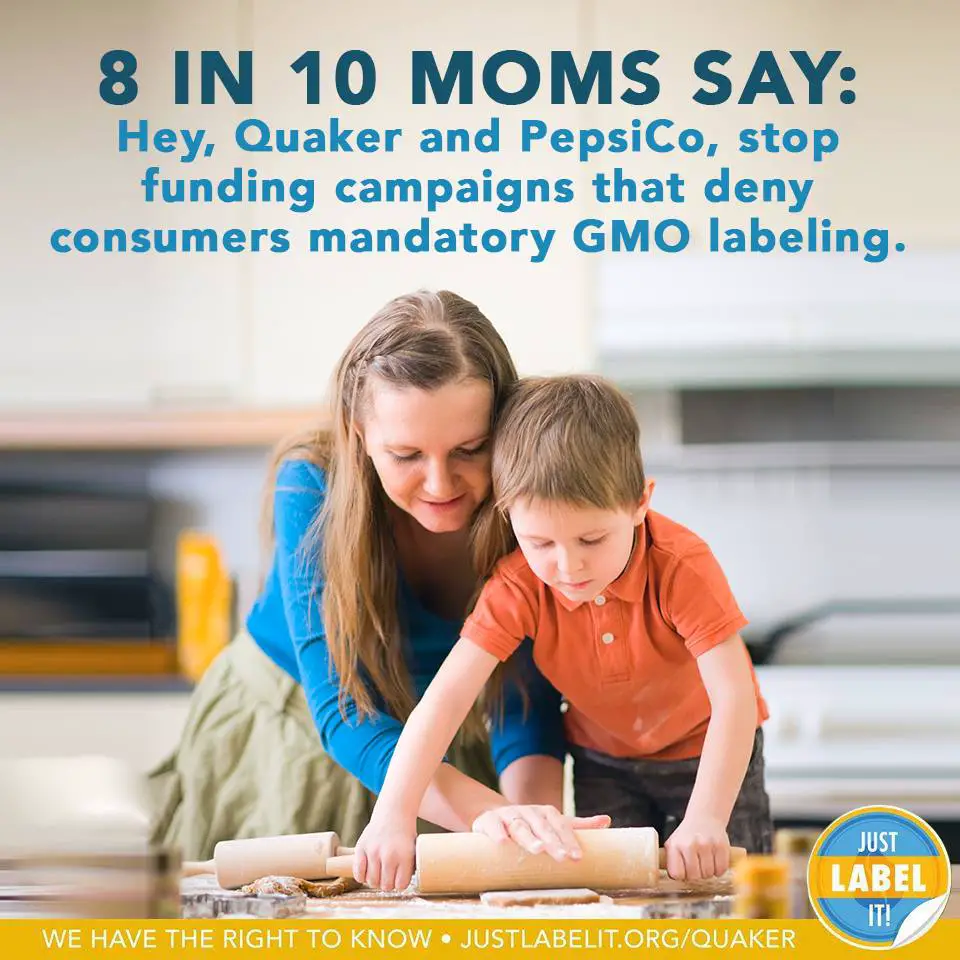 8 in 10 Moms have asked Quaker & PepsiCo to stop funding anti-labeling campaigns. Have you?
Right now there is a bill in Congress called The Dark Act, supported by the Grocery Manufacturer's Association, that would prevent mandatory labeling. Join us in asking Quaker to Just Label It and support mandatory FDA labeling of GMOs by SIGNING THE PETITION!  Its easy to do and  you can stay informed or join the conversation by reading more at JustLabelIt.com.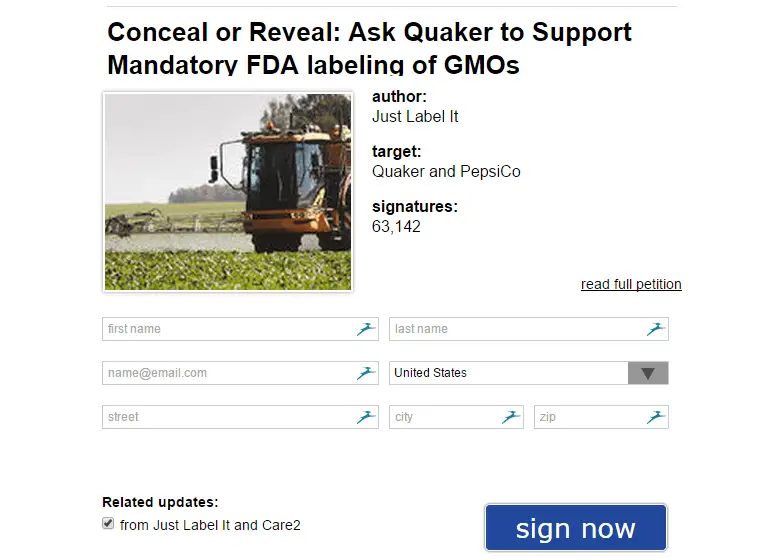 [Tweet "@Quaker Moms Want to KNOW if it's #GMO #ConcealOrReveal https://bit.ly/ConcealOrReveal #JustLabelIt"]  
For reference, read about this new poll that was just released: New Poll Shows Quaker And Other Food Brands Risk Losing Their Primary Customer – Moms – Over GMO Labeling!
You should be able to make the decision on what you feed your family. To make those good decisions, you should have all the information available to do that. Asking Quaker and PepsiCo to do just that should't be rocket science, it should be second nature. Honestly, I'm surprised that they don't want to do it. What exactly, are they hiding if they want it to keep it just a big secret? Just Label It already!
After you sign the petition, join us on twitter and ask QUAKER to Support Mandatory Labeling ! Use our hashtags  #ConcealOrReveal #JustLabelIt . I've added some tweets here that will make it super simple for you to join in!
[Tweet "@Quaker How would I know if its #GMO? https://bit.ly/ConcealOrReveal #ConcealOrReveal #JustLabelIt"]
This post was created as part of the Just Label It campaign in which I'm a compensated GMO Labeling Advocate. All opinions expressed are my own.