Disclosure: This post may contain affiliate links. I receive a small commission at no cost to you when you make a purchase using my links.
I've been going through old family recipes recently and when I stumbled across my Nona's (authentic) Lasagna Recipe, it stopped me in my tracks. I have my old standby recipe, but this one, is truly something special. Mind you, its not a recipe you cook on a whim, it takes time. Lots of time.  This recipe is truly a labor of love !  And if I'm ever asked, THIS is what love tastes like! Its rich and cheesy and the best melding of italian flavors ever. I made this beauty over the weekend, and while it'll be a long time before I endeavor this one again, it was worth every minute of the work.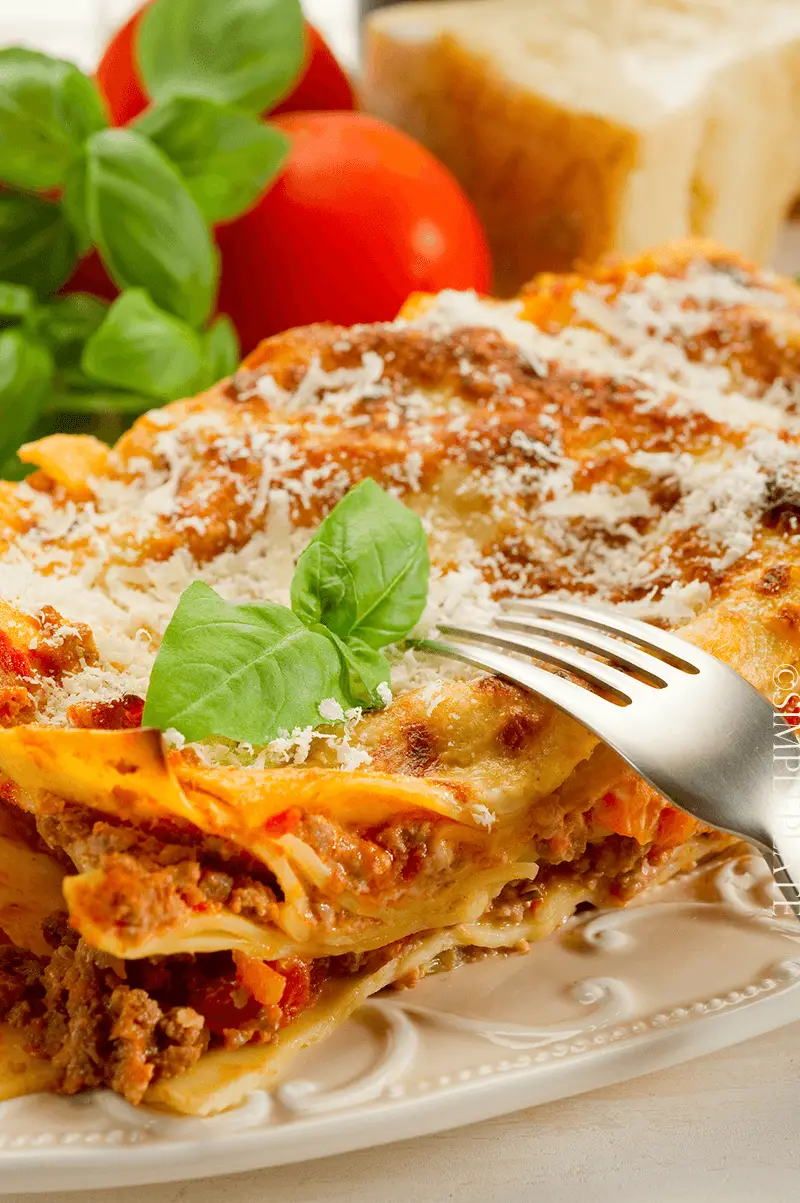 My grandmother (Nona) was like every Sicilian Italian grandmother you might have ever met. Kind, loving and the minute you walked through the door, the smells from the kitchen were always heavenly. The first words out of her mouth were (after hello and a kiss) "are you hungry"?  I'm making, sugo (sauce), cannoli, bread or what ever happened to be on her plan that day and of course there had to be a taste of what ever it was. Anything else was just unacceptable. She didn't make this recipe often, but when she did,  there were never left overs! My grandmother didn't read or write english, but she could tell you brands and items she used precisely. I'd spend days in her kitchen on a stool near the sink watching her, asking questions and writing down her recipes. Sometimes it was difficult, as she didn't really measure anything with a measuring spoon, but rather the palm of her hand. Over the years I've made many of her precious recipes, tweaking the tastes and measurments. (my hand size differs greatly from hers  then and now)
Set aside  a day (or two) to create this, I promise you won't be disappointed. You can make the sauce on one day, and the remainder on the next. Or spend the day in the kitchen creating. Totally your choice. If you like you can do all the work and pop the casserole dish into the fridge over night and cook the next day.
Print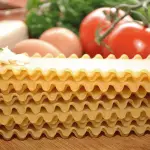 Nona's Lasagna
---
Author:

Total Time:

1 hour 20 minutes

Yield:

1

2

1

x
1/2

box lasagna noodles (unbroken)
Salt
Olive Oil
Large bowl of ice and water

1

16 oz container whole milk ricotta

4 cups

mozzarella cheese (shredded and divided)

1/2 cup

parmigano reggiano cheese grated

2

eggs

2 teaspoons

dried parsley flakes
Sauce from the above recipe
---
Instructions
Preheat oven to 375 degrees.
Bring about 6 cups of salted water to a boil in an extra large stock pot,
Add a tablespoon of olive oil and cook lasagna noodles (semi-covered), stirring frequently until cooked al-dente (about 8-10 min).
Remove the noodles to a large bowl of ice water (with ice-cubes) and let them stand until completely chilled.
When the cooked noodles are chilled, remove them from the ice water bath and stack them on a large baking sheet, separating each layer with a clean, damp kitchen towel
Cheese Mixture
Meanwhile, beat the eggs with a pinch of salt until foamy and combine with the ricotta.
Stir in 2 cups of mozzarella and the parmigano and parsley until blended.
Assembly
Start with the red sauce on the bottom as the first layer. Ladle about 3/4 cup of the sauce in the bottom of the pan.
Next lay down a layer of lasagna noodles, a layer of the red meat sauce, and a layer of the cheese mixture. Repeat for the next layer.
Finally, a layer of noodles, the red meat sauce and the remaining two cups of mozzarella (add a little more parmigano or asiago if you like)
Cover with foil and bake for 45 minutes at 375 degrees.
Remove foil and cook another 10-15 minutes until the mozzarella has thoroughly melted and is lightly browned and bubbly.
Allow to cool about 30 minutes.
Notes
Arrange noodles lengthwise and side by side so as to cover the bottom of the baking dish (A little "cut and paste" might be necessary. Also, the noodles will most likely overlap in the center of the dish. That is fine.)
To rewarm a lasagna that has been standing, cover it loosely with foil and place in a 325°F oven until heated through, 15 to 45 minutes, depending on how long it has been standing.
Prep Time:

20 minutes

Cook Time:

1 hour
Print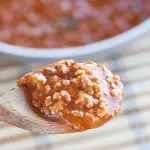 Authentic Bolognese Sauce
---
Author:

Total Time:

4 hours 15 minutes
Olive Oil

1

lb. ground beef (lean is best)

6

halved italian sausages

5

to

6

meaty pork neck bones (about

¾

pound)

6 oz

. can tomato paste

6 oz

. water

1

large can crushed tomatoes (or pureed tomatoes)

5

–

6

cloves garlic (minced)

1

small yellow onion (diced)

2 tbsp

. organic sugar (optional)
Pinch of dried oregano
Pinch of thyme
Pinch of Basil
Pinch of marjoram
Pinch of sage
Pinch of garlic powder

2

Bay leaves
Salt and pepper (to taste)
---
Instructions
In a large stockpot, sweat onions and garlic until translucent soft and fragrant in about 2 tbsp. of olive oil. (use a lower heat on your stove top so as to not burn the garlic or brown the onion)
Add in and brown the sausage (then remove from the pot to drain on paper towels)
Stir in the ground beef, breaking up and scrambling thoroughly so the crumbles are fine.
Drain off the oil and residual fat from the beef.
Add the sausages back in
Stir in the tomato paste, water and crushed tomatoes on medium heat
Stir in the seasonings and 1 tablespoon olive oil and bring to a boil.
Add in the pork neck bones.
Reduce to simmer, stirring occasionally.
Allow to cook for a minimum of 2-3 hours. (4 hours is optimal)
Remove from heat and allow to cool. Sauce will be thick.
Remove the sausages and pork to a bowl.
Prep Time:

15 minutes

Cook Time:

4 hours
Normally, I'd not suggest you cook pasta with olive oil or anything BUT  salt in the water, because the sauce just won't stick to the noodles. Lasagna noodles are the exception. The tend to stick together and adding a little olive oil to the water stops that. Without a doubt, noodles will break or tear during the cooking and chilling process. Save those pieces!  You can use them to patch the spaces when working with your layers.
You'll need a 15×10 lasagna baking dish.(this is mine)
.
If you're not big on clean up, they sell the disposable foil pans in the market, but if you use these be certain your pan is sitting on a firm cookie sheet as you layer your lasagne and transfer it to the stove. you can leave that pan on the cookie sheet to cool, but don't leave the cookie sheet under it to cook, you'll have to add time to the cooking process and your lasagne will be tough.
Serve with a side of the italian sausages or save them for a sausage poorboy sandwich.
What's your favorite family heritage recipe?