Disclosure: This post may contain affiliate links. I receive a small commission at no cost to you when you make a purchase using my links.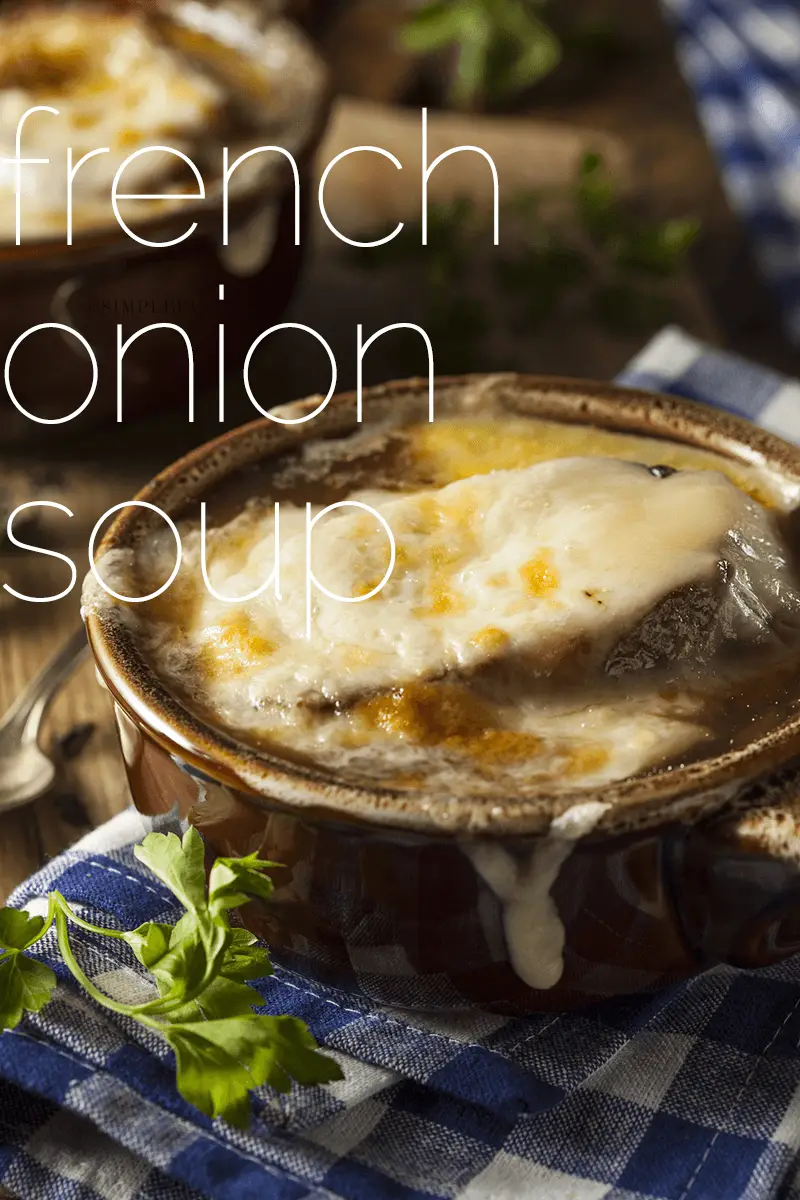 We love soup all year long, but right now is the perfect time for this Perfect French Onion Soup! Warm and comforting, and totally doable on a weeknight, this soup served with a small side salad will make your dinner and your family will request more!
Such a simple dish, French Onion Soup.  Most recipes end up tasting like burnt onion tea with a cheese topping. Not this one! I recommend using only yellow onions for the classic bistro soup.But you can blend them up for a taste that's a bit different.  (Texas sweets are my favorite or Vidalia's in season, mix in with the yellows and a red) . I usually use which ever stock I happen to have on hand. A homemade beef or chicken broth gives such a complex and different taste, but when it comes to easy you can't beat the store bought varieties.  If you wanted to make this totally vegetarian, substitute a veggie broth. See, simple and easy.
Print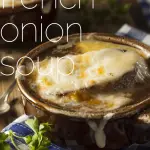 Perfect French Onion Soup
---
Description
Aged Gruyère is key to getting the traditional bubbling crust of cheese; it's rich, smooth, and melts easily.
---
1/4 cup

unsalted butter (plus more for the baking sheet)

4

medium-large yellow onions (about 2 lb., thinly sliced so you get about

8 cups

)
Kosher salt and freshly ground black pepper

1

small baguette (

1/2

lb., cut into 1/2-inch slices)

2 quarts

Beef Broth or Chicken Broth

1

bay leaf

2 cups

grated Gruyère Cheese
---
Instructions
Melt the butter in a 4-quart pot over medium heat.
Stir in the onions and season with 1 tsp. salt and a few grinds of pepper.
Reduce the heat to low.
Cover the pot with a lid, and cook, stirring occasionally, until the onions are very soft but not falling apart, 40 to 50 minutes.
Remove the lid raise the heat to medium high,cook, stirring often, until browned, about 10 minutes.
Meanwhile, make the baguette toasts.
Position a rack in the center of the oven and heat the oven to 350°F.
Butter a rimmed baking sheet and arrange the baguette slices on the sheet in a single layer. Bake until the bread is crisp and lightly browned, turning once, 15 to 20 minutes.
Set aside.
To Make the Soup
Add the broth and bay leaf to the caramelized onions and bring the soup to a boil over medium-high heat.
Reduce the heat to medium low and simmer for 10 minutes to blend the flavors.
Discard the bay leaf and season to taste with salt and pepper.
To serve
Position a rack 6 inches from the broiler and heat the broiler to high.
Put 6 to 8 broiler proof crocks on a baking sheet.
Put 2 or 3 toasts in each bowl and ladle the hot soup on top.
Sprinkle with the cheese and broil until the top is browned and bubbly, 2 to 5 minutes.
Serve immediately.