Disclosure: This post may contain affiliate links. I receive a small commission at no cost to you when you make a purchase using my links.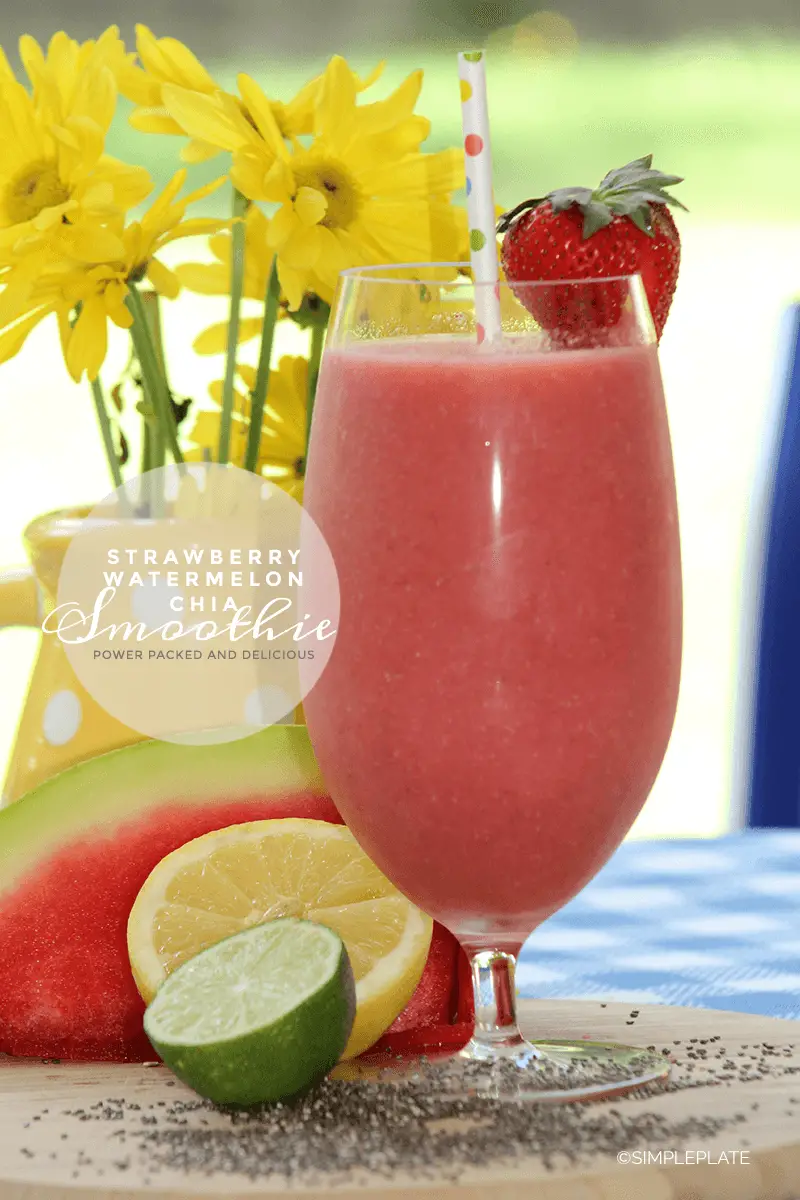 I've come to think that smoothies are what makes the world spin. You can have them sweet, you can have them savory and you can have them fresh, green or full of berry goodness. It only depends on what fruits you like (or greens) and what your tastebuds tell you. This Strawberry Watermelon Chia Seed Smoothie is slightly tangy, gluten free, and packed with omega 3's and protein. Who could ask for more?  As an after workout treat, after school or sports pick me up, an any time all round good meal substitute for healthy adults.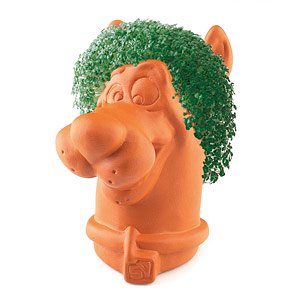 The ubiquitous Chia Pet®, around since 1982 or so,  was marketed as the perfect pet. Who needs a puppy or a cat when you can have a Chia Pet® And who'd a thunk that almost 30 years to the day I'd be using chia seeds in a smoothie.  The sprouts on the Chia Pet® were interesting, but definitely not something I'd choose to eat back then. Contrary to popular belief, my earth mother hippy days were long over by then and the closest I got to a health food store was using their parking lot on friday afternoons for happy hour next door!  Fast forward to today and I've found that Chia seed actually has some dietary benefit.  Its classified as a superfood, so I did some research and briefly these are the things I found:
Chia Seed is used in many dishes and ready made products, but when eaten raw it's excellent sources of omega 3 and dietary fibers come to life! Out of all the superfoods chia contains the highest omega 3 content in nature! Chia Seeds are one of the greatest places to get the vegetarian fatty source alpha-linoleic acid (ALA). (good brain food too!)
Helps cut Cravings – Sometimes our cravings are the result of our bodies deficit in certain vitamins and minerals. For instance, if you happen to crave cheese or other dairy products (like ice cream) this could indicate low calcium levels. (always consult your doctor) Adding more calcium by consuming it in the form of food is safe, and by weight chia seeds have more calcium than milk…WOW!
Stay Fuller for Longer – Chia is the ULTIMATE dieter's dream. Because of their high fiber content they leave you feeling fuller for longer. When submerged in liquids chia expands (soak your seeds before you eat them or use in a baked recipe) and the fiber comes alive. Smoothies are a great way to use the seeds because of the liquids involved.
Chia seed has a nut like flavor when eaten raw and when used in baking, (Chia gel) for most of your favorite recipes you can substitute up to half the butter with chia gel, and the food you bake will taste the same!
Print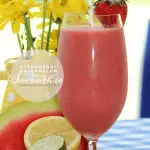 Strawberry Watermelon Smoothie
---
Author:

Total Time:

5 minutes

Yield:

1

1

x
Description
Fresh and delicious naturally sweet. A perfect breakfast on the run or after school snack.
---
1 Cup

plain greek yogurt

1 Cup

fresh strawberries sliced plus 1 split whole berry for garnish

1 Cup

fresh cubed watermelon

1 tsp

vanilla

2 tsp

Organic Black Chia seeds

2 Tbsp

Organic Blue Agave

2 Cup

ice cubes
---
Instructions
Spoon 1 cup of the sliced strawberries into a blender
Add the cubed watermelon.
Add the yogurt and the agave.
Add the vanilla and chia seeds.
Add the ice.
Pulse until thoroughly blended and smooth.
Pour into tall glass, garnish with a split berry.
Let this smoothie sit for a few minutes while the chia seeds work their magic.
Notes
You can make this smoothie a creamier version, substitute 1/2 cup frozen bannana for the watermelon and drop your yogurt to 1/2 cup and add 1/2 cup unsweetend almond milk.
Prep Time:

5 minutes

Category:

Breakfast

Cuisine:

Southern
 I've enjoyed using chia seed in muffins and more as well as this smoothie. Have you used Chia seed? What were your thoughts? Don't forget to grab a print of this recipe! And let us know about other recipes you've tried in the comments!
Linked Up at The Homestead Blog Hop  & Favorite Things Friday
See Where all our favorite Parties are! Here!