Disclosure: This post may contain affiliate links. I receive a small commission at no cost to you when you make a purchase using my links.
Quick, what's the first thing that comes to your mind when I say Summer in The South? Yep, hot, sweltering hot days. And most of my childhood, those sweltering hot days were usually accompanied by, you guessed it WATERMELON. Here are my favorite 3 great summer coolers for the adults and a couple of family favorites. Enjoy!
Print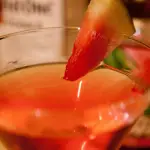 Kudzu Queen's Dream (fit for Royalty)
---
Description
Sexy and Fresh take on an old favorite drink
---
2 oz

. Reposado* tequila

2

scoops fresh watermelon

1

mint sprig 1 oz. simple syrup

3/4 oz

. fresh lime juice
---
Instructions
Muddle mint and watermelon.
Add remaining ingredients.
Shake and strain into a rocks glass.
Garnish with mint sprig.
Category:

Adult Beverages

Cuisine:

Southern
*Tequila Reposado
A Reposado Tequila is the first stage of "rested and aged". The Tequila is aged in wood barrels or storage tanks between 2 months and 11 months. The spirit takes on a golden hue and the taste becomes a good balance between the Agave and wood flavors. Many different types of wood barrels are used for aging, with the most common being American or French oak. Some Tequilas are aged in used bourbon / whiskey, cognac, or wine barrels, and will inherit unique flavors from the previous spirit.
 Watermelon Martini
½ ounce freshly squeezed lemon juice or ½ ounce sour mix
1 ounce melon liqueur
1ounce citrus-flavored vodka (use the good stuff)
1 ½ ounce freshly pureed watermelon
Crushed ice
Sprig of mint, for garnish
Small slice of watermelon with rind, for garnish
In a cocktail shaker, combine lemon juice, melon liqueur, vodka and watermelon puree over crushed ice. Shake and strain into a chilled martini glass. Garnish with mint sprig and watermelon slice and serve.
Watermelon Margarita (Frozen)
5 cups watermelon, cubed, seeds and rind removed (about 1 3- to 4-pound melon)
1 cup silver Tequila
1/2 cup Cointreau or Triple Sec
1/2 cup fresh lime juice
1/4 cup sugar
Watermelon slices (optional), for garnish
Preparation:
Place cut watermelon in airtight container and put into freezer overnight.
Put the frozen watermelon and remaining ingredients into blender and blend until smooth.
Pour into margarita glasses and garnish with a wedge of watermelon if you like.
Watermelon Pickles
2 quarts water
Rind from 1 large watermelon
1/2 cup(1 dL) salt
2 1/2 cups(6 dL) cider vinegar
2 cups(400 g) sugar
2 teaspoons cloves
1 small stick cinnamon, in pieces
2 tablespoons whole allspice
Remove the pink pulp from the watermelon and cut the rind into manageable pieces. Cover with boiling water and boil for 5 minutes; drain and cool. Cut off the green outer skin of the watermelon rind and remove any remaining bits of pink pulp. Cut the rind into 1-inch strips or squares or any shape you prefer. You should have 8 cups of cut-up rind. Mix the salt with 1 1/2 quarts cold water and pour over the rind. Let stand at room temperature for about 6 hours. Drain, soak in several changes of fresh, cold water, and drain again. Cover with fresh, cold water, bring to a boil, and simmer just until tender when pierced with a fork; drain. Mix the vinegar, 1 cup water, and the sugar in a pot, then add the cloves, cinnamon, and allspice tied in a cheesecloth bag. Simmer until the sugar dissolves. Add the watermelon rind and simmer until it is clear, adding more water only if necessary. Remove the spice bag. Pack in hot, sterilized jars and cover with the boiling liquid, leaving 1/4-inch headspace, and seal. If you wish, process in a boiling-water bath for 10 minutes.
Ginger Watermelon Pickle: Add 1-2 tablespoons chopped preserved ginger to the vinegar mixture
Watermelon Salad
1 (5-pound) watermelon

1 Vidalia or other sweet onion

1/4 cup red wine vinegar

Salt and pepper

1/2 cup extra-virgin olive oil

2 tablespoons chopped fresh mint

4 ounces feta cheese crumbled


6 whole mint sprigs
Cut the flesh from the melon and cut into bite size pieces, removing and discarding the seeds, and set aside. Peel and slice the onion into rings.
In a small bowl, combine the vinegar, salt, pepper, and whisk until salt is dissolved. Slowly whisk in the olive oil, a few drops at a time. Add in the chopped mint, taste, and adjust seasonings.
In a large bowl, combine the melon, onion, and feta. Pour the dressing over the melon mixture and toss gently until everything is coated and evenly mixed. Garnish with mint sprigs.
To serve, divide salad among individual plates and garnish with mint leaves