I fell in love with Biscoff Cookies, it seems a life time ago, and when I started seeing them in our local Kroger, and it was like seeing an old friend! I started bringing them home in small quantities and noticed they were disappearing quickly! Turns out my family is as big a fan as I! A few months ago, I noticed when I was purchasing our favorite all natural peanut butter, there above on the next shelf was the familiar red, white and gold label from the cookies, what?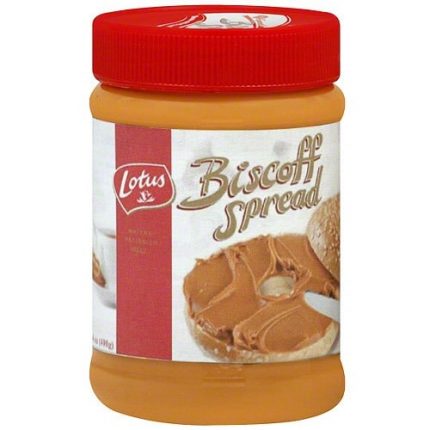 BISCOFF SPREAD!
This is a sponsored post on behalf of Mom IQ (Burst Media) . I have received product and compensation for the post. Any opinion expressed is my own and I have developed a custom recipe for the product.  You may find more information about my disclosures and policies here.
Well, if you know me, I didn't have to think long on this one and snagged a jar 'just to try it out' (yeah right) and I didn't get the groceries put up at home before I'd opened the jar, dipped in a spoon and found myself just shy of heaven! (I hid the jar, btw, I'm selfish that way)
Since then, I've noticed the spread in almost all our local grocery stores right there in the peanut butter section, but if you need help locating the product, try the store locator to find it where you live!
Recently, I was contacted by the company to tell you about Biscoff Spread and a fabulous contest they have going on. Knowing how much I love the product and how many different ways I've used it since I found it, I thought you'd all enjoy a fresh recipe and some more information on it as well as some glorious details on their contest. When the product arrived here at our home, my husband immediately opened the jar and dug in a spoon, he's as in love with it as I am!
Biscoff Spread is made from the actual Biscoff Cookies, in Belgium. It contains no Trans fats, no preservatives, no cholesterol, no GMO or artificial colors and most importantly for those of you with children who are nut sensitive, no nuts! Plus it's completely Vegan! You can use it just as you would peanut butter, on toast or bagels, for sandwiches or snacks (it's particularly delicious spread into a celery rib or you could do just as I do and sneak a teaspoonful when you need a quick snack.)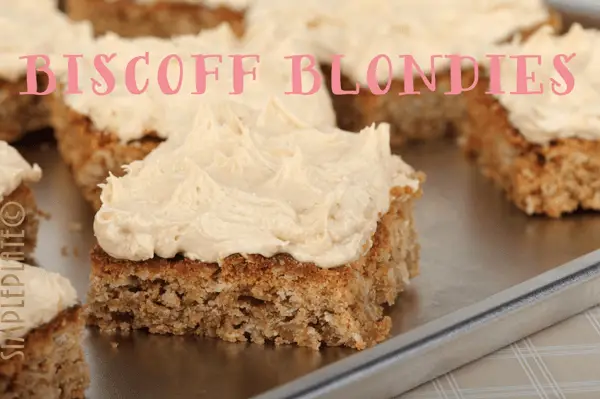 I took my favorite Blondie Recipe and added in ½ Cup of Biscoff Spread and well, you've just got to try these! Grab a print for yourself and make some this afternoon!
Biscoff Blondies
Ingredients
½ cup Biscoff Spread
⅓ cup margarine, softened
⅔ cup white sugar
½ cup packed brown sugar
2 eggs
½ teaspoon vanilla extract
1 cup all-purpose flour
1 teaspoon baking powder
¼ teaspoon salt
Instructions
Preheat oven to 350 degrees F (175 degrees C). Grease a 9x9 inch baking pan.
In a medium bowl, cream together Biscoff Spread and margarine.
Gradually blend in the brown sugar, white sugar, eggs, and vanilla; mix until fluffy. Combine flour, baking powder, and salt;
stir into the Biscoff Spread mixture until well blended.
Bake for 30 to 35 minutes in preheated oven, or until the top springs back when touched.
Cool, frost and cut into 16 squares.
Cream Cheese Frosting
A Basic Cream Cheese Frosting For cookie bars, cupcakes, and cakes
Ingredients
½ cup butter, softened
1 (8-oz.) package cream cheese, softened
1 (16-oz.) package powdered sugar
1 teaspoon vanilla extract
Instructions
Beat butter and cream cheese at medium speed with an electric mixer until creamy. Gradually add powdered sugar, beating at low speed until blended; stir in vanilla.
 Lotus Bakeries (the makers of Biscoff Spread) want you to share the many inventive ways you enjoy Biscoff Spread – the cookie spread made from the popular Biscoff cookies – in the first-ever Biscoff Spread the Love Challenge.
From July 1 to July 28, the Biscoff Spread the Love Challenge asks YOU to get creative with their Biscoff Spread snacks by uploading photos that show your favorite ways to "spread the love."
It's super easy to enter and the prizes are FABULOUS! The company will select the top 30 photo entries and Facebook users will vote for the final grand prize winner.
The top three winners of Biscoff Spread the Love Challenge, to be announced on August 30, 2013, will receive the following prizes:
First place – A trip to Belgium for two and a tour of the Biscoff factory
 Second place – $1,500 cash
 Third place – $1,000 cash
So, Grab a jar of Biscoff Spread on your next grocery visit, then fire up your cameras and enter this contest ASAP!
How to Enter
1. Visit Biscoff's Facebook page or the Biscoff Spreads Love Contest
2. "Like" Biscoff on Facebook and upload a Biscoff Spread photo with a title and description. Entrants may submit one additional photo for each referred friend. Please note, all qualified entrants must submit their photos between July 1 (12 a.m. EST) – July 28 (11:59 p.m. EST). Facebook fans will vote for the grand prize winners between August 5 (12 a.m. EST) – August 25 (11:59 p.m. EST).
3. The top three winners will be announced on Facebook on August 30.
Be sure you visit the Biscoff Spread Pinterest Board, Facebook Page and My Simply Biscoff Pinterest Board for inspiration and more yummy recipes using Biscoff Spread.  And don't forget to Pin This Recipe to your own Pinterest board! #BiscoffSpreadsLove You'll want to remember this one!
So, how do YOU use Biscoff spread?
This is a sponsored post on behalf of Mom IQ (Burst Media) . I have received product and compensation for the post. Any opinion expressed is my own and I have developed a custom recipe for the product. You may find more information about my disclosures and policies here.